Ne8x aspires to be the next startup hub of India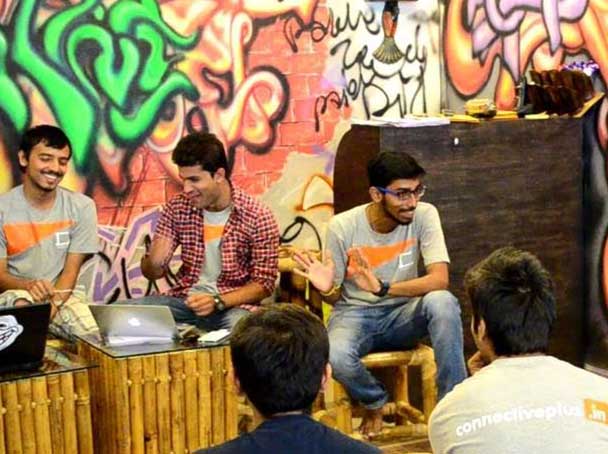 If you think about dynamism or risk taking, its not always the soul calling off. Here's the story of Riddhinil Roy from the North East...
It has been a year only, but NE8x, the regional start up accelerator platform for Northeast India, is creating ripples in the nascent startup ecosystem of the region. Born and brought up in Assam, 24 year old Riddhinil Roy, is a true son of the soil, dedicated to foster and promote the region's new business through support, advice and networking.
Read on to know more, as Roy shares his journey with Baishali Mukherjee in a zealous discourse.  
The inner call
I was all set to judge a hackathon on Smart India at Shivamogga, Jawaharlal Nehru College of Engineering. However, due to some personal reasons I could not make it. That left me thinking about organising such events in my native place in future. To make that happen it was important to create a platform for promoting and nurturing the fledgling startups of the region. That was the beginning of what became the first of its kind regional startup accelerator platform for Northeast India. Since there are eight states in Northeast India, our startup accelerator is named 'NE8x'.
Started in July 2016, the aim of our platform is to support/assist startups from our region and to upgrade their current technology and operations up to the global level and refine their ideas thereby helping them connect with resources. We spent a meagre 4,500 rupees to start off the venture and are bootstrapping ever since. The operations are controlled mostly from our Guwahati outreach office, but we have presence in 14 cities across including all the metros.
This helps us provide wider access to our community members as lot of Northeast India people especially youth is settled outside. Our platform, NE8x, currently have more than 54 mentors on the platform. The Mentorpreneurs and Startup Mitra are in our mentor panel.
The impact
In the last two-three years a lot of first generation entrepreneurs have started up enterprises of their own. The figures are shooting up and the requirements for company registrations and team hiring are increasing at a faster pace in our region. Initially, startups in the region were focussed at creating online applications for the existing markets of traditional handicrafts and handlooms. The current trend is to build application centric platforms from the region. Regional SIDBI funds, IIE and NEDFi have sanctioned a lot of fund to develop the startup ecosystem in the region and a lot of it is currently in action, we believe with more incubator centres under Atal Innovation Mission the start up scene will further advance.

Transparency is the biggest impact that we have created through our platform. A lot of grey patches existed in project finance area in our region. We have addressed that and a lot has changed after NE8x came into the scene. With equivalent break-down pricing, unbiased reviews, quality quotes from economical service bidders the project requirements are made into an open source.
The model
As NE8x has been working as an open-source networking platform, we have access to some of the best minds from the region who understand the community better and deeper.  Today we have our regional heads at all the big cities that cater to the requirements from our region. We also have a robust network of more than 43 District Ambassadors in the region. We are passionate about our mission, and it's a long way forward as we just started. We have already catered to 38 clients and are extremely hopeful with the response from Mizoram and Tripura. However, to be in the startup scene in Northeast India and catering to the regional requirements give us a satisfaction of its own kind.
Both startup enthusiasts and established startups approach us for services. So for the enthusiasts we have the virtual NE8x Card with lifetime membership validity that lets them attend all our events, access online resources and course wares, as basic as writing a b-plan to finance management along with mentor allotment and seasonal discounts on our exclusive store. For business that are established we provide android app consultation, user reviews along with project consultation for their entire web platform with focus on digital media marketing along with assistance in reaching out to domain based investment firms.
'Made in Northeast India, made for the world'
Every 10 years, a new technology takes over or even faster. We are working closely with the regional bodies to evolve with this change. The backward tag associated with Northeast India, to us is a mere indication of the work pending across domains in the region. We are committed to encourage first generation entrepreneurs with our remote web-library of resources, assist existing businesses take full advantage of the new technology at par with the metro cities. Our motto is to create, innovate, inspire the idea 'Made in Northeast India, Made for the world'.
We aim to bootstrap some more initiatives under our banner to help market the local talent, diversify the logistics and distribution chain for the startup community. We believe that the pace at which our initiative is receiving support and with the increasing number of sustainable startups from the region, Northeast India will soon be the next big startup hub of India and also an important centre for South-East Asia economy. We are open to collaborations with the rest of India - help our region grow at your pace because together we are one big family. Our region has a lot of designing and coding - talents do explore our regional talents and diversify.
How startup accelerators are aiding in the growth of startup ecosystem in India? Please share your views.