Bollywood launches its first ever startup
It might be the best of things or the worst of things but when it comes to anything related with Bollywood- Indians just can't miss it. No wonder then that Wingman Talent and Razr Media's coming together to launch India's first Bollywood startup invites in a lot of hype and hoopla. While Wingman Talent Management takes care of some of Bollywood's biggest celebrities, Razr Corp specialises in development of diverse platforms such as mobile and web (OTT - Video), ticketing, trading, publishing, artist management, virtual reality production, carpooling and more such. Anshul Gupta - founder of Razr Media, a division of Razr Corp based out of Mumbai is behind this venture.  In an exclusive chat with Baishali Mukherjee, Gupta reveals about their venture.
Making of the startup
I Am An Entrepreneur and I believe bringing relevant products to the market that create new experiences. Built on technology and collaborations from around the world the joint venture will create digital experiences for Bollywood's biggest stars who could now have their own personalised digital experience built for their fans. They could own their mobile and TV app, VR studio, a 3D game and an additional revenue stream, be a media house themselves and directly connect with fans worldwide and with the brands the artists endorse. While scouting for credible partners in the industry I hit off brilliantly with Sonu Lakhwani (founder, Wingman Talent) who loved the idea and believed it was high time the celebs develop and own their digital assets on which a substantial portion of social media traffic and search volumes thrive.
In phase 1, the app will launch a dedicated VR corner where fans could enjoy a plethora of content. Additionally, there will be blogs, articles, videos, social media updates, images and a lot more on the app. In phase two & three, AI capabilities along with a dedicated personalized game followed by an app for smart TVs. The goal is to be an independent web broadcaster with exclusive video content being churned out every week. The app will be an entry to the celebrity's home, their journey and how they establish a personal level of connection by motivating their fans to accomplish their dreams. The platform aims at gradually extending to sportspersons, writers, leaders and social media influencers with followers more than five million.

Razr Corp, the parent company has developed over 20 mobile apps and over 75 platforms in the media and entertainment space and has served more than 150 million consumers through its clients. The company already operates with a team of 30 members in Mumbai, India with offices in London and Luxembourg. For executing the Bollywood project it has partnered with Realabs, Luxembourg- A VR software company, Cloudwalker Technologies, Elysian Studios- A VR production house, VIDGYOR- An on-demand VOD platform, AIVA, Paris- The AI music platform, Big Trunk-Digital agency and Nextalytics- for IT consulting.
Why a Bollywood startup?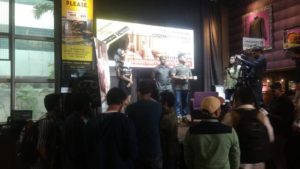 In a celebrity obsessed nation, everyone loves to keep track of their favourite stars. What they are up to, what they are wearing, who they are with, what movie they are shooting, and what are they eating and lots more. We love to keep our B.Q (Bollywood quotient) up to the minute. Keeping the love and the obsession alive, leading Bollywood celebrities you love, will be launching their own mobile platforms starting April 2017 through the platform named A.R.M.S, created by us.
How will it work?
A.R.M.S is a premium fan base management platform in the form of a mobile app/tv app/ AI/VR/ 3D game connecting artists/sportsperson with their global fans and acting as an alternate revenue stream for them. It has already signed up with more than 15 top Bollywood artists with the first set of launches from April 2017. A.R.M.S will provide all access and rights to celebrities who often complain of not being provided stats by their digital companies. Brands that artists endorse can now advertise on the artist's platform directly to a much more engaged audience. An artist is no more an ambassador; he is the media house, distributor of his own content being at the centre of the ecosystem.
The business model
Razr Media is a bootstrapped company with an investment of around Rs 30 lakh. The company will seek funding by the end of the year after successfully launching five-seven artists and creating a consumer base of around five million. The clients of Gupta are famous and have a minimum of million plus fans on social media and a huge search volume on Google. They include sportsperson, leader, writer, artist or a motivator.  "The digital experience for them is crafted according to their profiles. The model does not require charging the clients for creating their games and apps but having a revenue-share agreement in place for 36 months," adds Gupta.
Does Bollywood really need a startup to manage itself? Please put in your comments.