Her dance therapy zips you out, totally!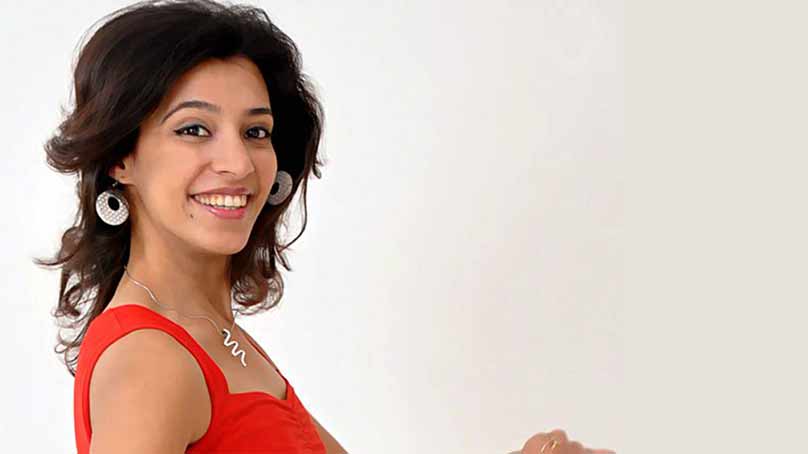 She makes corporate and couples, youth and the aged dance to her tunes and be happy for it. Noida based Runjhun Gupta, founder of ZipOut, a dance therapy institute espouse what Cohen said years ago - Dance me through the panic 'til I'm gathered safely in. She will usher you into a fascinating world where movement, mind and body come together to stimulate good health and well-being. Inquisitive about exploring what brings into play the curative power of dance to advance wellness in others? Read on as Gupta, an alumnus of Indian Institute of Management Calcutta, in an exclusive chat with Baishali Mukherjee, shares her journey of realising her cherished dreams-
Dance therapy
Dancing, not only advances your muscular coordination, but also releases tonnes of dopamine. It makes the blood resonate, which in turn helps you let loose the stress wound up inside you. Throughout time, societies have relied on dance to express feeling, tell stories, and converse with each other and the mystical— and to cure ailments. Dance/movement therapy is the psychotherapeutic exercise of movement to advance the emotional, cognitive, corporeal and social integration of the individual.
Leap of faith
Stirred by the widespread stress that is a disturbing ramification of our high paced lifestyles, and highly itinerant jobs, and keen to help mitigate the risks associated with stress I initiated ZipOut (where the Zip stands for 'zindagi in pajamas'). My years of training at the renowned Tanushree Shankar and Anand Shankar's dance academy coupled with my zeal for fitness helped me decide to quit my corporate job and go back to where I belong – the dance arena. I wanted to help people achieve a state of bliss through a combination of classical dancing, salsa, cha-cha-cha, merengue, waltz, ball room dancing and bhangra, thus making life a celebration.
Once clear about my intent, the next steps followed the quintessential 'start-up' formula – quitting a high-paying, secure job at Bank of America, starting modestly at one retail centre and slowly growing into a multi-centre project. ZipOut till date has touched more than 10,000 lives which include both, retail and corporate clients who have started living the celebratory life which I imagined.
ZipOut offerings
ZipOut provides remedial dance curriculums employing an interactive and fun concept, for relaxing individuals both at the corporate (Pepsico, ICICI, HCL, Hindustan Times, Cadence, Patni Computers, V- Customers, WNS to name a few) and individual levels and simultaneously operates as a dance academy to hone dance skills of passionate dancers. ZipOut not only offers program for de-stress, it also has a very popular program called 'Curvit – Get curvy and be fit', which has helped lot of people achieve desired weight loss, good toned up figure and of course fitness. As I have always been taught by my parents that happiness comes from within, I developed a program called 'Feel Beautiful', helping many of my clients in developing their personality, confidence, and creating a positive and happy outlook.

The programmes are meticulously designed for kids, teens, youngsters, corporate and housewives. The corporate programs are targeted to curb work-related stress and increase employee engagement levels. We have conducted workshops for more than 400 employees in one day! It is because people find it difficult to maintain a healthy work-life balance, absorbed as they are in their demanding career; dance therapy is gradually emerging in the corporate recreational agendas. The corporate leaders are shepherding their team members to have a dose of dance and beat stress.
The corporate bigwigs know that all work, no play make their workforce dull and are willing to travel distances to accomplish a cohesive work atmosphere. Dance therapy, for them, are not just stress busters, but help incredibly in creating kinship among the team members and facilitate the construct of an efficient team. Institutes too are going for these engaging sessions now a day. Having worked closely with people at various levels, I figured that the need to de-stress is common but the grounds of stress differ at different planes. To address this I developed diverse de-stress curriculums for different levels. The module named Bigg Boss is customised especially for the CXO level, whereas Zipinity being a fun-filled component aims at bridging the gap between levels.
Landmarks
Six years down the line I have clients ranging from four years of age to 60, have touched 10,000 lives, reached more than 30+ corporate clients, 10+ TV coverage, and received five awards including one as the best dance institute in Delhi, NCR. The best of it, however, came from being awarded by Dr Shashi Tharoor and being included in the diaries of CBS as the '36 most Illustrious CBS alumni'. The award for 'Young Successful Entrepreneur' by Union Railway Minister and the actress Urmilla Matondkar, was yet another great recognition. The Women's youth icon Award in March'17 was the first ever international recognition of my endeavour.
What's in the pipeline?
Now that the company has a successful retail course replica, I am working on introducing apps and online classes. Five years from now ZipOut will be a complete de-stress solution both offline and online. The app could be downloaded by the workforce of an organisation that subscribes it. It will offer bespoke set of courses that will engage the employee until he or she experiences tranquillity.
I strongly believe in the idea of 'you live only once', and hence am totally absorbed in extending happiness to as many lives as I can. As I visit colleges to interact and address the youth of today, I reiterate on being unapologetically you, and to be spirited enough to follow the innate passion – as the path to eternal happiness lies right there.
What's your most favourite idea for de-stressing? Please put in your comments.