MAVI's 'CommBucha' Aims to Turn Drinking Time Into a Memorable One!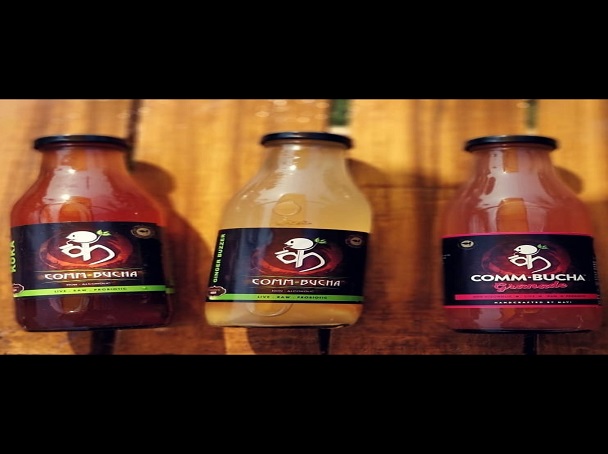 'MAVI's CommBucha' - this new drink in the market, is all set to disrupt the traditional way of drinking, especially benefitting the non-alchoholic folks! Read on...
For Vikram Mittal (33) and his better half Meenakshi Bhanj Deo (38), entrepreneurship came at the drop of a hat.  Little did they realise that their 2 month vacation to Mumbai, would turn them into real time entrepreneurs. 
Within a year of operation, their drink 'CommBucha' has earned a good repute for itself, and they are soon planning to foray Pan India.
Besides, CommBucha, MAVI's also has different fermented and healthy products like Beet Kvaas, and Sauerkraut. The couple are learning more about fermented food, and how different lifestyle affects the overall physical and mental well being. 
In a candid conversation with IAAE Sub-Editor Gairika Mitra, the couple tells us about their new expedition.
Edited excerpts:
Tell us about your product in detail. How did you decide to build a business around it?
Kombucha is essentially is a fermented tea,  a 2300 year old concept from Manchuria, China. Rich in probiotics, anti-oxidants, vitamins and other beneficial organic acids, Kombucha helps in keeping body's well being. Some of the many kombucha benefits are improved gut health, relief in joint pains, improved homeostasis, reduced stress and nervous disturbances and insomnia, enhanced metabolism, improved immunity etc. The origin of diseases like diabetes and cancer can be traced to the beginning of the processed food culture.
We discovered Kombucha on our delayed honeymoon trip to USA where we had the pleasure and luck of staying in Asheville with our friends who are into permaculture and organic farming.
Your entrepreneurial expedition seems both exciting and adventurous. Would you enlighten us bit more?
So what started of as a non alcoholic solution for my wife during our evenings is now a full fledged start up called 'CommBucha' by MAVI. This is doing rounds all over Mumbai at the farmer's markets and few stores. For a 11 month old start-up we already have a sizeable loyal customer base who have replaced es their soft drinks with CommBucha, used it as a mixer and they swear by their happy tummies.
In what purposes can MAVI's CommBucha be used? What are its unique properties like?
MAVI's CommBucha offers to be the bridge between the healthy and fun sides of our life. MAVI's CommBucha is naturally aerated, refreshing and tasty  and 100% organic and natural. It can be used as a health drink, a mocktail, a cocktail mixer and a perfect replacement for all the popular sugar laden beverages. We intend to change how health drinks are perceived in general. Our vision/aim is really to MAKE SOCIAL DRINKING HEALTHY, ONE CITY AT A TIME.
How do you plan on competing with exiting key players in the market?
Our USP, we believe is our constant experiment with new flavours mainly around the local, seasonal and organic fruits. We firmly believe in interdependence and community building and hence the name 'Comm'Bucha.
We want to make this drink popular and we believe that can be done only by educating people about Kombucha and how it can make a difference in their health and well being. We intend to grow to be thought leaders of the Kombucha community. We believe MAVI's CommBucha is a superb complement to the healthy lifestyle one needs to live by.
Coming to the financial perspective of the company, are you a bootstrapped venture?
Yes, we are a bootstrapped venture till now. While we kick-started, we invested a meagre amount, treating it like a holiday expense.
What are your plans of raising funding?
We are already in talks with a few angel investors. Some of them have expressed interest, and we are really hopeful to raise funding soon.
What are your immediate and long term milestones like?
Of late, with the overwhelming response that we are getting from our audience, we sincerely hope to reach more and more.
Talking long term, we want MAVI's CommBucha to be recognised as a one stop solution for brewing Kombucha.
Lastly any advice for wannapreneurs or couplepreneurs?
Meenakshi(smiles): "Never stop loving and understanding each other."
Vikram: "If you have a dream, chase it now with all your heart, energy and time
For anybody starting up, it is very important to start right away."
"You have thought of your idea, now do something about it. And, do it now", conclude the couplepreneur.