This Startup Reveals a New Way of Making Money!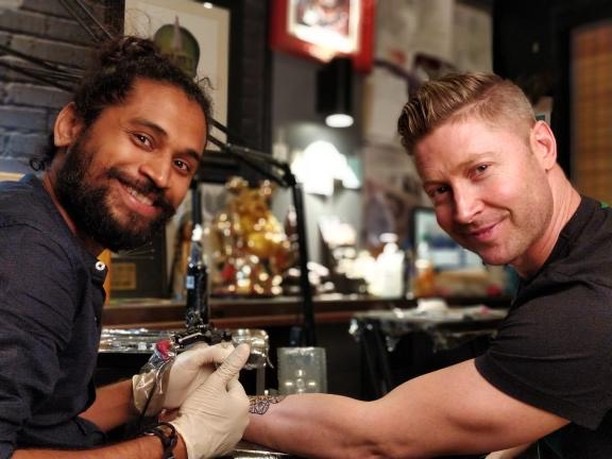 Over the days, IAAE did cover many entrepreneurs. Some explored the entrepreneurial passion at the early age of 16, while there were others who put up a brave fight even in their 90s. 
But one thing remained common. The undying love for their product, and the practice of never giving up. One among this clan is famous tattoo artist Vikas Malani, who is all set to prove that a full time profession in tattooing can be lucrative too. 
Talking to Sub Editor Gairika Mitra, Vikas spills the beans.
Edited excerpts: 

Tell us about your entrepreneurial journey. How did you decide to build a business around tattooing?
My journey has been a a lot twists and turns as tattooing is not considered a main stream profession in India. Society thinks a career in tattooing isn't serious enough, and am aiming to disrupt that perception. 
This is why I am still open to learning new solutions and creative ideas for self development and for the growth of my firm 'BodyCanvas'. Frankly speaking, the path to success is never easy and for your existence, it is imperative that you acquire the required skills.
How are you working on bringing a change in people's mindset around tattooing?
I see problems as opportunities, and every problem is a chance for me to showcase my talent. We are trying to promote awareness by 
changing the way society looks at tattooing. We are trying to build a strong foundation for a better tomorrow. 
What is that one factor that distinguishes you from the rest?
We are organised and work really hard towards making tattoo industry as structured as any other established profession like (hair and cloth designers). Also, our After Sales Service is commendable. We have extended our helpline numbers with our customers, where we take personal care of any problems our customers face. 
How much investment went into your startup when you first started?
I started with a meager investment of 5000 approximately. This was while I was tattooing from home. Then, I opened my first studio with proper set up with an investment of around 10 lakh.
How do you wish to make your presence felt more?
I have already ventured into 2 more companies and getting a lot investors from Europe to invest in us. 
Looking forward to be India's first tattoo business consulting firm. 
What are your immediate and long term milestones like?
My immediate is I have to travel a lot to have a strong network around the globe to bring Indian tattooing on global map. 
Long term is go have proper platform for all tattoo artists with better stability.
What piece of advice would you like to give to wannabe tattoo artists?
The secret lies in staying humble and open to learning.