There's no stopping when its Youth4work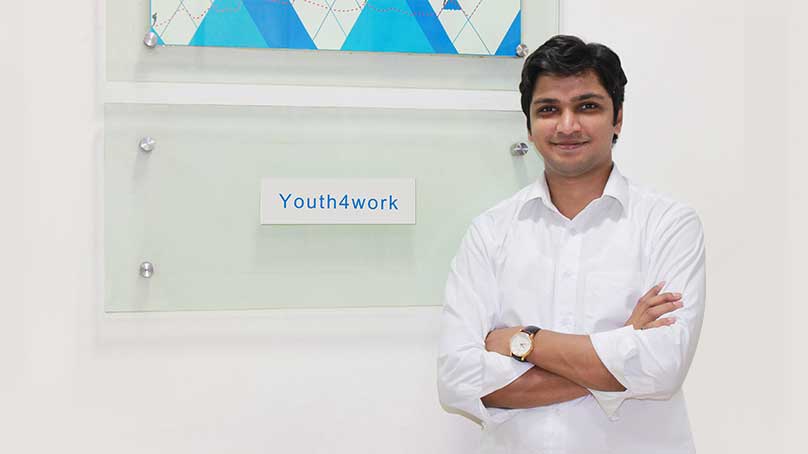 He began his career in 2006 with Mahindra Automotive in Mumbai and took a lead role in the startup venture by Mahindra called Mahindra First Choice Services. Within two years, Rachit Jain became the youngest person to manage the team of 100+ people. It was during this period that Jain observed the disparity between allocated job responsibilities and portfolios that didn't match the innate strengths of the individuals. This led to his entrepreneurial journey and founded 'Youth4work' with the savings and PF from his previous job and hired one employee and an intern.
In an exclusive interview with Baishali Mukherjee, the 30-year old entrepreneur shares his story of connecting India through skill and enabling better and easier hiring solutions for employers.
With the lament that the world does not use enough technology I made the second-most important decision in life i.e. careers- I founded 'Youth4work', a talent platform in February 2012.  Today the platform has 1.7 Million registered users who are developing their skill sets and matching them to the requirements of a specific job.
I think everyone is unique; every individual has his/her own skills and talents, which cannot be shown on a resume or by a common degree. If people could identify their own skills vis-à-vis the others, improve them and showcase them, there are tons of opportunities out there. Trust me, it is extremely hard to find and hire people as an employer. If people work in areas where they are passionate and skilled at, the benefits is not just career growth but true job satisfaction.
How does the platform work?
We personalize the platform for each user enabling him/her to connect and be compared with like talented, like profiled people. Use of advanced machine learning and big data algorithms enable the site to function easily for youth across all background and skill level. Using a phone or web, people can test them and compare themselves with their peers. The site offers 50 different talent tests based on the profiles of users. A person with data entry skills can give a test for data entry and be compared with people having that same skill.
Connecting job responsibilities with portfolios

With over 10 years of work experience in technology and management, I have been building 'Youth4work' over the last five years to empower people to assess and identify their own talents, improve their skills and showcase themselves. For job seekers, it is quintessential to understand their own talents (most youngsters are not truly aware about it themselves) in context of the competition or their peers. We help them improve and make an informed choice about their careers. We are a Youth portal, which allows people to self-assess and form communities of like-skilled people. If you understand yourself, you can learn and improve yourself. Career opportunities will be a by-product. All that a youth from anywhere in India has to do to start is give a free online test at www.Youth4work.com.
Facilitating start-up growth
Today Youth4work works with a team of 35 dedicated members who mentor startups by helping them in hiring, and also through extensive mentoring. We offer and invite startup entrepreneurs to use our services free and hire people who have been pre-assessed directly through our platform. I also listen and advise startups by sharing my own experiences. I think there is a real human need for every entrepreneur to share and communicate with people who actually understand. A founder could connect with a fellow founder extremely well. I will not call it mentoring but friendship bound by a common journey, I still do not know what works right for startups, but I do know many things that do not work and sharing those experiences is actually what mentoring should be.
Way ahead
I don't want Youth4work to be positioned as a job site. My focus is to build intelligent people who personalize information and guide people to connect, collaborate and do so much more. We are talking about 300 million youths in India, who are and will enter in the workforce in the next few years. We would like to be the platform where every youth in India connects to the internet, comes to improve them and becomes a part of a talent community. The platform works both for tech and non-tech profiles and having pre-assessed profiles enabling employers to connect with the relevant few for their jobs and take them to the next hiring process.
In a corporate-led India, how can we improve hiring processes further? Please put in your comments…..