Two sides of Do It Yourself Websites – Pros and Cons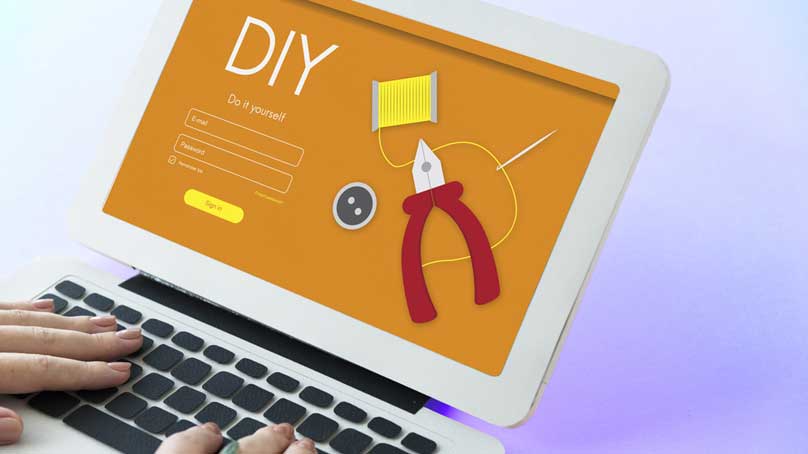 Your company's presence in the online world is very important. But as with any other task, this too involves money and often turns out to be expensive. To create a website, you are often at a cross road to either choose between an affordable DIY package or a professional team who will put everything together for you.
The DIY option seems inexpensive and simple enough. You can easily put a website together with step-by-step instructions. There are usually templates and layout schemes to choose from. You get more control if you work on your site yourself. However, as with any DIY project, there could be pitfalls.
Here are a few pros and cons of DIY website builder to help you identify if this could be the right fit for your business or not.
DIY Website Builder Pros
They are often free or the packages are low-cost. Ideal for start-ups. Hosting is usually cheap as well.

It might be ideal for startups, nonprofits, personal sites, or those on an extremely tight budget

It can give you web presence quickly and anytime, day or night

It can be great if you don't need a marketing strategy or flexibility in Search Engine Optimization (SEO)

The software is fairly intuitive and user-friendly. Thanks to the helpful tutorials

It allows you to easily create and add contact forms, social feeds, newsletters, and other features

The software updates are usually taken care of

The support forum can give quick answers to very general issues

It's a good starting point, especially if your company is not entirely sure about putting in a lot of work and make updates in the future
DIY Website Builder Cons

The SEO services bundled are often times ineffective, inflexible, or outdated

Creativity is controlled. Templates offer minimal flexibility and you are confined to the limits of the template.

Zero uniqueness. Other businesses or organizations have access to the same templates as you do. This will lead to others having a site that looks almost exactly like yours. Especially since most will choose the highest quality templates

Many templates are based on Flash technology, limiting your website in many ways, including search engine crawlability, speed, and mobile readiness

Moving to a new hosting provider can be extremely difficult

DIY website builders can limit your ability to create many pages and data types, furthering limiting your SEO efforts

Many of the templates are poorly designed or outdated. This can portray your business or organization in an unprofessional way. Remember, often times your website is your first point of contact with many of your potential clients or customers

Often times, DIY websites are highly graphic intensive and poorly optimized leading to slow loading

If you use their hosting, (Example: yoursite.diywebbuilder.com) you seem to be less legitimate as a business and lose out on potential branding

Support is usually limited to general troubleshooting and technical assistance

DIY Website builders often have trouble integrating Webmaster Tools (Google, Bing) and other analytics (Google, Bing, Yahoo) tools that will help you grow your business
Everything depends on budget, goals, size of the company, etc. Weigh in the factors and decide how important it is for your company to have a unique website and professional services. If you're just starting out, an inexpensive DIY website package might be your best option. You can always use it as a stepping stone and move on to a more professional solution as your company grows.