Fancy Junk? How About an Edible Cutlery With Your Meal?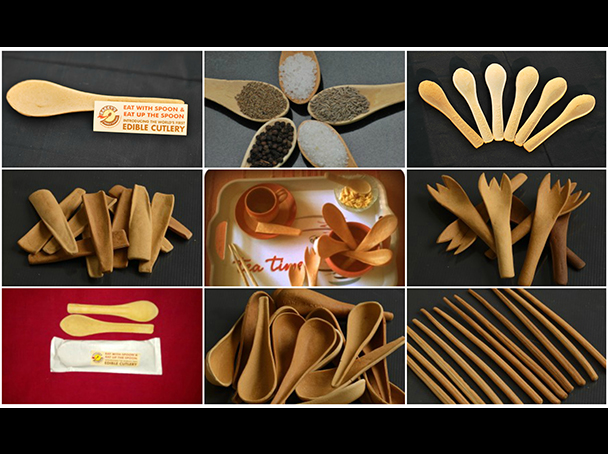 This startup manufactures cutlery that allows one to eat with it, and then gobble it too! Read on!
Those of you, who are habitual to having breakfast while travelling, please be wary, especially if you use plastic cutlery. A recent report by UN states that plastic consists of several chemical complexes which when mixed with food could be hazardous to health. Excessive use of plastic could lead to deadly diseases like cancer.
To address this existing problem, Hyderabad-based entrepreneur Narayana Peesapaty founded Bakeys Edible Cutlery. In an elaborate chat with IAAE staffer Gairika Mitra, Peesapaty tells us about his unconventional business idea. Edited excerpts:
The Problem It Solves
Bakeys Edible Cutlery manufactures cutlery that is edible, and a lot healthier than plastic disposable cutlery. "We make our cutlery with dough made from a mixture of sorghum, rice and wheat flour, kneaded with hot water. The products are then baked in moulds. We started with spoons, then proceeded with forks, soup spoons, dessert spoons, yoghurt spoons. We are planning to make crockery in the near future as well, like small bowls, cups, plates and salad bowls."
Products and Ingredients

The edible cutlery is made of flour and is available in three tastes – plain, sweet and savoury. The sweet cutlery has further variants like vanilla and strawberry. The savoury flavour doesn't lag behind either, it's infused with salt and pepper.
The products are free of preservatives, chemicals, additives, colouring agents, raising agents, fat, trans fat, artificial chemical nutrition or animal ingredients, milk and milk products. They are natural products, that are both degradable and vegan.
Finances
Bakeys is a bootstrapped venture as of now. While launching, Peesapaty had made an investment of about 4. crore.
They have seen a commendable reaction from the audience and have earned recognition from 138 countries across the globe.
Way Forward
Peesapaty dreams of a day when the entire globe would be devoid of plastic. One day, he wants to wake up in a world where the number of 'entrepreneurs with a mission' would be much higher!
Do you know of a similar startup is disrupting the traditional way of thinking and solved a genuine problem of the society? Give us a buzz at gairika.m@start-guru.in