This mompreneur could give your wardrobe a twirl!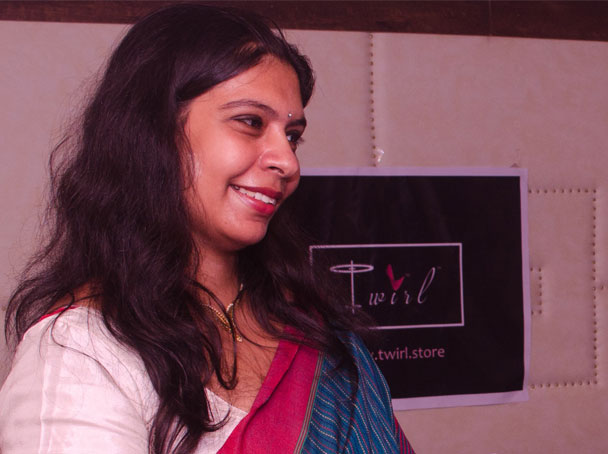 Twirl helps you reinvent your wardrobe
Sujata Chatterjee, (36 years) spent part of her childhood in Birmingham, England- before coming to Kolkata. She pursued her BTech from NSEC, Kolkata and PGDIM from IGNOU. She has also done a certification in marketing from Cambridge University (International Examinations). After working in Hewlett-Packard India as sales manager, Chatterjee took a sabbatical to spend time with her family.
Once ready to join the professional world, Chatterjee thought of taking the entrepreneurial way which gave wings to her dreams while kept her flexible for taking care of her little one.
Scroll down as this Kolkata based shepreneur shares the innovative idea that brings in to her business model with Baishali Mukherjee:
The genesis
The concept and background work on Twirl was started in 2016. The trigger was the state of my own wardrobe, wardrobe of all my friends and relatives – stacked to the full and yet always wanting to keep on shopping.
The idea came from a thought that there must be a better use for these clothes that are lying untouched in my wardrobe, and there must be a smarter way to keep shopping without overcrowding wardrobe.
www.twirl.store is the solution to the problems of everyone's wardrobe. We understand your wardrobe is full of things you no longer need. Hence we reward you for sending your unwanted clothes to us so that you could continue to buy new designer clothing and accessories from Twirl. And with the old things you give to Twirl, Twirl donates to charity through monthly drives and up-scales some of the fabrics to create new, unique wonders. Also Twirl is perhaps the first Indian platform where all its clothes come with a buy-back policy so when you no longer want it- you could return it and get rewarded. So keep renewing your wardrobe by shop, sell, buyback on www.twirl.store.
The conscious efforts for a sustainable model
Fashion should not be just consumption, it should become a sustainable circle and that's the source of the name Twirl. You could shop designer wear from stand out in the crowd using the limited edition products. When you no longer want to repeat them, send them back to us and rewarded by. And so the circle goes on.
The concept of Twirl has supporters like renowned Hindustan Classical singer Kaushiki Chakroborty and singer-director Amanda Sodhi.
The challenges
Entrepreneurship is a 24X7 job and if you truly believe in your vision, you will have the fortitude to deal with challenge which is a given in this field. As with every other entrepreneur starting a company from scratch, initially every day and every task for me was a challenge. My journey was further uphill as it was a concept that has never been done before.
However, I knew that in entrepreneurship we cannot have fixed strategies to deal with unforeseen roadblocks and bottlenecks. Hence, I keep changing and remodelling my strategies as per new situations. You cannot ever pre-empt or be prepared for all challenges that come your way but what is working for me is that I truly believe in the concept of Twirl and that this is going to be the future of fashion and that conviction helps me find solutions to every muddle.
That said my family is the reason I can deal with every challenge that comes my way. It's not easy to be a mompreneur but my two kids, husband and my brother inspires me to not give up.
The team
I am building up a team of girls as I believe in girl power. Also my team of tailors are primarily women from rural and different backgrounds. Twirl serves as a source of employment to these women from different social and economic backgrounds.
Future Plans
I want to spread awareness about Twirl store so that wastage is reduced and everyone joins in our attempt to make fashion a sustainable circle.
Do you think Twirl has a sustainable business model? Do share your views.