Origgon moves towards personalized web search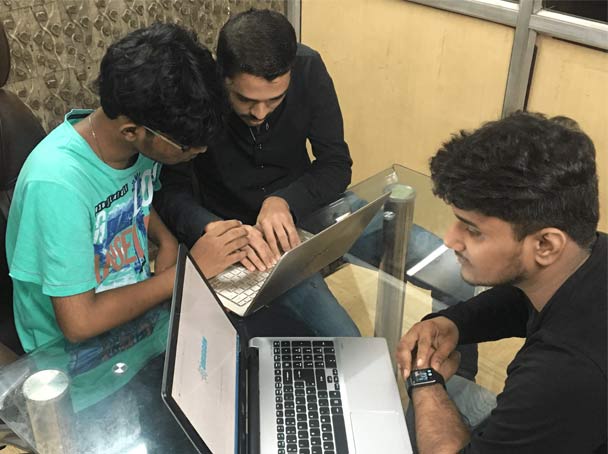 An entrepreneur at the age of 15? Really?
Could there be a platform with a number 9 (3/4) in the real world? It certainly exists in the reel life. All trains from 9 (3/4) lead to Hogwarts. Here's the story of an Indian wizard- a 15-year-old from a remote village in West Bengal.
Abhik Saha, an alumnus of Don Bosco school has developed eight apps till date. Call it an adventure or a hobby, his latest project went a little too high. Abhik went ahead to develop a search engine Origgon.com.
Origgon began its first beta services in October 2016, and was finally launched in January 2017. Currently, the team is headed by young people. While Abhik is busy each day restructuring Origgon, 23-year old Harshit Jain has joined the board too as the Project Alliance Manager.
In an elaborate chat with Gairika Mitra, the youngsters share their exposure in the world of entrepreneurship:
Excerpts from the interview:
From Abhik
I have my roots in a remote village called Chalsa in the Jalpaiguri district of West Bengal. I discovered my love for technology when I was very young. My grades in school were impressive in Computer Science, while I performed miserably in Humanities.
Our house got an internet connection when I was small and I started honing my skills in both hardware and software. After reaching a state of confidence, I created my first tech blog called Tech27.  Since I was actively available 24*7, hence the name.
After a few days, I had this realisation that if I could manage my blog well, why don't I start my own business? By 2014-end, Tech 27 Consultancy saw the light of the day. I had started it off pretty informally even without a proper registration. That phase was a difficult one for me, as I had to approach my clients personally through social media.
By 2015, I got my first smart phone and that was actually when I thought of developing an app. I had designed apps such as 3D Hunter, ABCD, and I Learnt. These apps were available on Google Playstore.
By 2016, I found out that a lot of time was being wasted in searching and gathering information, and I decided to design a new search engine.

Step 2
My thirst for technology never seemed to quench and it aggravated with each passing day. After some initial days of research and hard work, I had designed Origgon. My main intention behind launching Origgon was to gain a domain clarity.
If the word is split- it becomes Or I Go On, thus signifying my present status. That the technical craze within me shall go on (if Origgon doesn't work out.)
Initially, I had received a short response from people. Yet, after a few days, many visitors mostly from the US had started visiting. The response was optimistic and I felt that my efforts would not go unheard.
Mumbai Beckoned
Mumbai is the financial hub of India. I was still apprehensive of my future project, until I heard from the mentor of my life. I got a call from one of the renowned angel investors based out of Mumbai. And thus my voyage with Mumbai started.
Though operating as a bootstrapped venture, we got some backing from the angel investor. Currently, the team is small in number but we plan to expand soon.
Differentiating Factor of Origgon
We are a search engine that allows its users to search every item with a social impact. For example, when you search for GST, we would give you the best possible results based on a personalized ranking.
When you try out other search engines, the results are mostly based on AI. In some cases, a particular blog might have interesting content, yet it gets overlooked as poorly rated by the search engine.
The results can be tweaked very easily. That doesn't happen with Origgon. We try to get a virtual map of the user who Is visiting our website. This gives us an easy understanding of what the user wants from us.  
Any setbacks?
Ups and downs are very much a part of startup life. We are still in the initial phase of business, and are getting good views per day.
Our aim is to attract about million users from India and then expand on a global scale. With an innovative and efficient team, I am sure that day isn't too far.
This was the story from a 15-year old entrepreneur. Do you think his little venture Origgon could compete with biggies like Google and Yahoo? We would love to hear from you.