'Sahapedia' scouts for content partnerships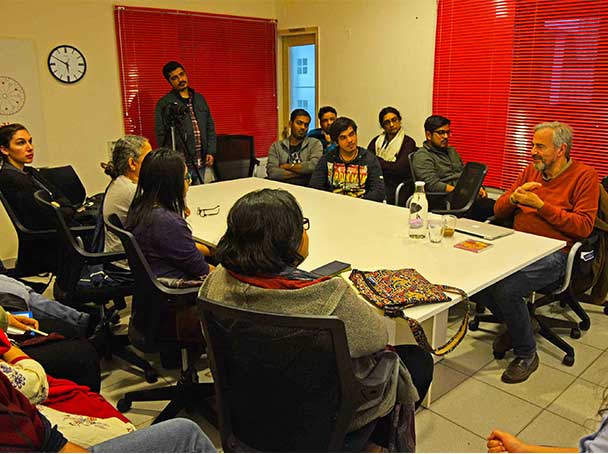 'Sahapedia' redefines Indian culture. Read on...
Sudha Gopalakrishnan is the vice-president and Vaibhav Chauhan, founding team member of Sahapedia, an online encyclopedic resource on Indian culture and the arts supported by the Tatas.  Dr. Gopalakrishnan has authored and translated many books relating to arts in India. Previously, she was the founder director of India's National Mission for Manuscripts which led a nation-wide effort to survey, document, conserve, and place in the public domain information on one million Indian manuscripts, now a global knowledge resource. She has also penned the recent 'Kutiyattam: The Heritage Theatre of India.' An alumnus of the Delhi Institute of Heritage Research and Management with a Master's degree in heritage management, Chauhan calls himself a 'cultural entrepreneur'.
 When the founding team collaborated, the result was a given! The innovation truly is a repertoire rich in the resources of arts, cultures and heritage of India.

In a detailed discussion with Baishali Mukherjee, Vaibhav Chauhan, co-founder and director, resource mobilisation at Sahapedia shared the idea and purpose of Sahapedia as a one point source of digital content in South Asian culture. Go through!
 Identifying the potential for leveraging open digital resources
While we were digitising manuscripts along with the National Mission for Manuscripts, we realised that there was a huge potential for leveraging open digital resources on the Indian heritage and culture. That led to the ideation of Sahapedia. I had started a boutique travel enterprise which offers "Curated Travel." While working, I came to know of many experts, resources and institutions which were largely untapped by the travel planners in India.
After five years of intense research carried out on a cooperative basis, offering windows to novel encyclopedic content, images and videos on subjects under a wide range of tangible and intangible heritage, we launched the platform in April 2016. Today, Sahapedia is the go to interactive platform on Indian and broadly South Asian cultures. The platform is based on a crowd sourcing model where experts contribute to subjects ranging from textiles to monuments across India. Besides articles on various subjects, the portal contains an image gallery as well as multimedia where they upload videos and interviews.
The platform has also put together a series of 11 books for the multi-volume documentation of the Rashtrapati Bhavan. Heritage walks across the country are also being hosted by Sahapedia. This year we launched our cultural mapping project, beginning with Fort Kochi in Kerala.
Building from basics
Initial funding support was given by the erstwhile CMC Limited (now merged with TCS). Eventually S. Ramadorai, the president and mentor of Sahapedia promoted the venture.  The revenue model is majorly the CSR support by corporate and foundations. We have 26 resource persons on board and have dedicated teams to undertake specialised works including documentation, research, editing, designing and technical development. We also work with research affiliates working remotely with it. Recently, we have announced the launch of Sahapedia Fellowship Programme.
Presently the language is English, but we have an inventory of content in other languages as well. As the next wave will be of vernacular content we plan to launch Sahapedia 2.0, with major segment of the content in vernacular languages.
 Catering to multiple user-groups
 Sahapedia is presently doing a variety of projects and catering to multiple user-groups. We have a thriving online presence with a growing number of online users. We also have a large user base of audience attending our activities like talks and heritage walks in five cities. Eventually, location-based services would help users gain quick and accurate information. We see students, scholars, academicians, tourists, Indian diaspora and enthusiasts as our main audience.
 Filling up the information gap
 We are also working towards exploring Heritage Tourism, Heritage Education and Heritage Consultancy as important verticals for the financial sustainability of Sahapedia. Information on culture and heritage is available but it is largely unverified and scattered. Sahapedia fills a huge gap where tourists can use the portal to plan visits on the basis of reliable and immediate source of information. Eventually, location-based services would help them gain quick and accurate information.  Entrepreneurs in travel and tourism industry can utilise Sahapedia for curating differentiated itineraries and we are looking for content partnerships in future.
How could you leverage on a 'differentiated itinerary' for your travel plan? Please share your views.