This Startup Delivers Your Morning Tea Via Drone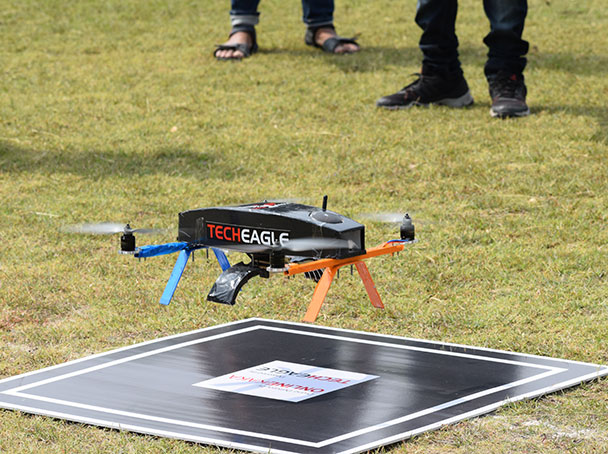 This IIT-an ensures that your freshly brewed morning tea reaches you in seconds!
Lucknow, the city of Nawabs, is famous for its traffic congestions, but here is a startup that no longer considers traffic a constraint and flies over instead. The brainchild of 21-year old Vikram Singh Meena, 'TechEagle' has developed customised drones of various types and sizes that deliver tea at the doorsteps of customers in Lucknow.
In conversation with Gairika Mitra, this youngpreneur tells us about his long-term expeditions. Edited excerpts:
The Start
An alumnus of IIT Kanpur, Vikram had been always inclined towards the latest technology. His idea generated at a garage, back in his IIT Kanpur hostel. It is known as TechEagle Pvt. Ltd today. Most importantly, he wanted to explore the untapped genre, a genre that has little skilled manpower available in India.
The idea popped up while attending an event, 'Startup India' program in Lucknow. The Startups that were present there, talked a lot about the ongoing traffic jam in the city. One of the food delivery startups talked about their problem of home delivery due to traffic congestions. This was when Drone delivery struck them and they started making advances for the same.
First Project
"First we made DRONEs capable enough to lift that payload and to achieve the flight time, then we tested the mechanism for pick up and dropping the flask.
We used to get live feed from the DRONE to monitor it, so it took some time to increase the range.
Once all the tests for individual tasks were done, we planned the first delivery with a food startup called OnlineKaka. When we reached the location, wind was blowing at a very high speed. Fortunately, the first delivery was a 100 percent success", says Meena.
Uniqueness in Business
Larger payload capacity
Longer flight time
Strong and durable airframes
Modular structure (Easy to transport and can be used for multi-applications)
Financial Backing
They are a bootstrapped venture at present. Initially, TechEagle invested about 1 lakh when they started off in 2017. They are in talks to have investors, state governments, and other business honchos aboard soon.
Days Ahead
TechEagle plans to expand its services across the country, based on need and resources. "We have analysed that around 10-15 drones can be deployed in one city. Our drones can traverse 10 metres in one second and one single trip can last up to 20 minutes. We are doing research on batteries to increase the payload capacity and flight time," Meena said.
In 2014, an unmanned drone was used to deliver a pizza to a flat at Worli, Mumbai. In October last year, Amazon had filed a patent for delivery of products via drones in India. Another drone startup, Aarav Unmanned Systems, raised a bridge round funding in April 2016.
About the use of drones, illegal in India, Vikram says that "Drones are not meant for public use and the Directorate General of Civil Aviation (DGCA) is amending rules to make drones legal in India, which is likely to be in process by the end of this year."
Do you think drone deliveries would fare much better in the near future in India? Do let us know.