Crowdfunding and Startups: The Intermittent Chemistry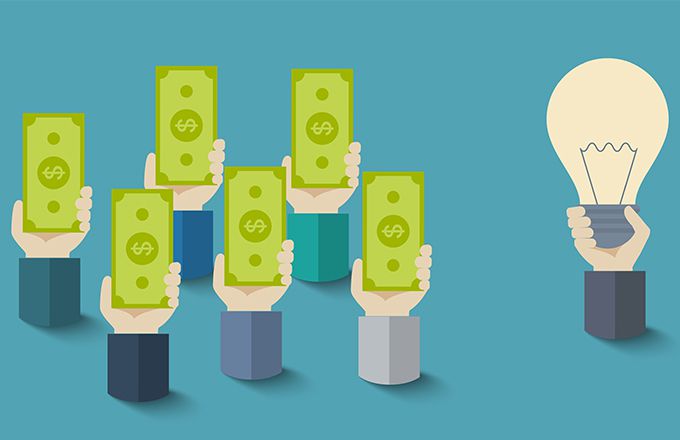 Getting Funded is NOT A GUARANTEE to success!

Crowdfunding is funding a project or venture by raising small amounts of money from a large amount of people, typically via the internet. Its simply to put your idea or a prototype for the world to view & judge, and if viable the audience is given the power to invest and see it become alive. The genesis of this concept was initially only for creative projects, basically, a scriptwriter/director puts up 'the story'. If enough interest/funds come in, the creative film got made. This soon transcended to other businesses ideas and entrepreneurs started showcasing "prototypes".
What really works in this unique model of seeking funds is that an entrepreneur gets to validate his or her idea. A product-market fit validation does more than just encourage a "kick-start".
Post getting people to pledge value for a project or an idea, it's the entrepreneurs opportunity to not just bring it to life. But to immediately start seeking scale. This remains one of the biggest reasons for a large number of startup failures post fund support.
Take a recent example…
An audio startup Ossic announced their closure a few days back. They had taken a good amount of crowdfunding pre-orders and refused to refund the money. Ossic raised a good amount of money, for their Ossic X-headphones, which they pitched as a pair of high-end head-tracking headphones, perfectly suitable to use for 3D audio, especially in VR environment.
The company blames the lack of demand for its niche product, though it did raise a lot of money from pre-order. It further claims that it managed to produce 250 Ossic X units, but it's unable to package and ship them owing to insufficient funds.

Finances
Talking of finances, Ossic raised a handsome $2,708,472 and $3,248,214 from Kickstarter and Indiegogo respectively. Besides this, Ossic also received an equivalent amount from a seed investment. Thus the amount raised through crowdfunding was only half the company's total funding.
In January 2017, the San Diego-based company had received more than 22,000 pre-orders for their Ossic headphones. They had announced that they had shipped out the first units to the 80 backers in their $999 developer tier headphones. The company also mentioned that they would enter 'mass production' by late spring 2018.
Towards the end after tens of thousands of pre-orders, Ossic only built 250 pairs of headphones and only shipped a few dozen to Kickstarter backers. The company further said that they would require an additional amount of $2 million to deliver the existing backlog of pre-orders.
Other startups like iBackPack had raised more than $7,20,000 from Indiegogo and Kickstarter. The company stopped operating post investment, and then vanished all of a sudden. Then there is Eilo Motors that raised about $17 million from investors and the results have been downhill ever since. While going to publish, we are yet to hear about a turnaround strategy.
While all these negative stories might cloud the opportunities that crowdfunding platforms offer, it still remains the most sought after platform to access outside funds for seed capital.
In conclusion, it's very important for an entrepreneur to start thinking of SCALE, from Day One. Ultimately, for an entrepreneur, 'the cash flow' management is everything.
With inputs from Digital Trends and Tech Circle.