Paytm gets more innovative with its 'Inbox'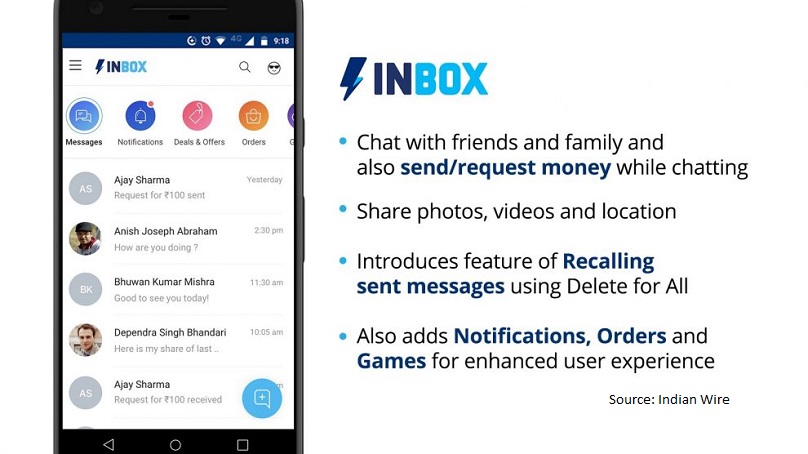 Paytm adds a feature to its 'Inbox' section to add to users' convenience…
Read on!
Decacorn Paytm has been making headlines quite recently. The digital payments platform has a new feature as part of its Paytm 'Inbox' section, called 'SMS Inbox'. This section allows users to segregate spam SMS from the important ones; allowing the users to further segregate the messages as per their requirements.
"As a technology company, we want to offer a convenient solution to this problem and are excited to announce the launch of the spam-proof 'SMS Inbox'. While filtering spam and categorizing SMS, it brings a lot of features that would add value to the lives of our users", said Deepak Abbot, senior vice president at Paytm.
As per a press statement, the Alibaba and SoftBank backed payments company said that the new feature uses Machine Learning (ML) algorithms to classify SMS into personal, transactional and promotional categories, and offering a clutter-free experience. The SMS categorization is done locally on the device by the Paytm app, only after the user gives an explicit consent to avail this service.
Abbot further explained that the app educates users about various classifications of the SMS categories and their utility values. The users can choose to delete one or several threads, re-classify SMS and mark SMS as read/unread.
Paytm Inbox was launched last year, which allowed consumers to exchange messages, videos and images with merchants besides doing only financial transactions. The company also allows users to play games, receive instant notifications, and see offers through this feature.
Other developments in the Space
As per industrial sources, Paytm is eyeing a majority stake in Bengaluru-based BigBasket in February. The e-grocery market is expected to touch $28billion by the end of 2018. Last month, Amazon and private equity fund Samara Capital acquired Aditya Birla Group's food and grocery retail chain, 'More' – the fourth-largest supermarket chain in India. Reliance e-commerce is also in the process of developing its biggest grocery network by roping in around $3 million merchants and around 8000 grocery stores.
BigBasket delivers all products from groceries to snacks and the likes across 25 cities of India. Analysts say, a direct access to a built-up customer base could be a win-win situation for Paytm, BigBasket and Alibaba.
With the constant upgradation of new features in its app, it is to be seen if Paytm continues to rule the payments space in the near future.