'Sankalp Global Summit' 2018 Gets Active Participation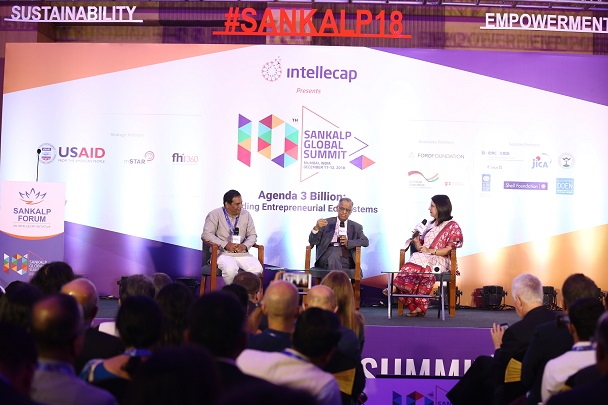 The two day '10th Sankalp Forum' - an initiative by Intellecap got the likes of renowned dignitaries!
Aavishkar Intellecap recently held its 10th Sankalp Global Summit 2018, at Bombay Convention and Execution Centre, NESCO. I Am An Entrepreneur had the privilege of attending the event. Let's have a look at the major highlights from the event:
- Key Dignitaries including IT industry icon N.R. Narayana Murthy, Founder, Infosys; the US Consul General,. Edgar D Kagan; NITI Aayog CEO, Amitabh Kant; Ayushman Bharat CEO, Dr. Indu Bhushan; Mr. Nitin Prasad, Chairman, Shell were among the 1000 delegates who convened in Mumbai for the Summit.
- The two-day Summit was attended by Entrepreneurs, Innovators, Investors, Corporates, Academics, Policymakers, and other thought leaders from around the world.
- USAID India, FHI360, and mSTAR was a strategic partner for the Summit.
- Sankalp Global Summit recognised emerging social entrepreneurs and announced the winners of Sankalp Awards 2018
The agenda behind the event was to engage stakeholders from across the entrepreneurial ecosystem. The theme of this year was 'Agenda 3 Billion – Building Entrepreneurial Ecosystems' across five high impact sectors – Agriculture, Clean Energy, Health & Sanitation, Financial Inclusions, and Livelihoods.
The event hosted about 40 sessions from different touching topics like women entrepreneurship, digital financial inclusion, energy and climate change, CSR, agri-tech opportunities, circular economy, and a lot like reverse pitches were also involved.
Speaking about the 10th Sankalp Global Summit, Vikas Bali, CEO Intellecap said, "As the world chases ambitious Social Development Goals, the Summit shifts the focus on the questions that the world collectively desires to address. The summit brought together a confluence of entrepreneurs and businesses, curated conversations and inspired learnings, all of which will have a substantial contribution in addressing and answering complex challenges.  We are grateful to our partners who joined us for the summit."
Speaking at the opening plenary, Mr. Narayana Murthy, Co-Founder, Infosys said, "The most important thing that India needs is cultural transformation marked by qualities such as honesty and discipline. There are 4 aspects to being a successful entrepreneur - most important is to master the art of selling, second finance - getting better returns for their investors; third a team with complementary strengths including technology and finally luck as without it is difficult to succeed."
The event brought together about 1000 curated entrepreneurs, investors, innovators, corporates, academics, policy makers, and other thought leaders from across the globe. The Summit built on the UN sustainable development goals and featured compelling tracks, sessions with inspiring leaders, renowned experts, fireside chats and freewheeling conversations. These were aimed to drive essential content around technology, disruption, innovation and social entrepreneurship, with a focus on ideas that can improve the lives of 3 billion people at the bottom of the pyramid.