Startups React to the 2017-18 Budget!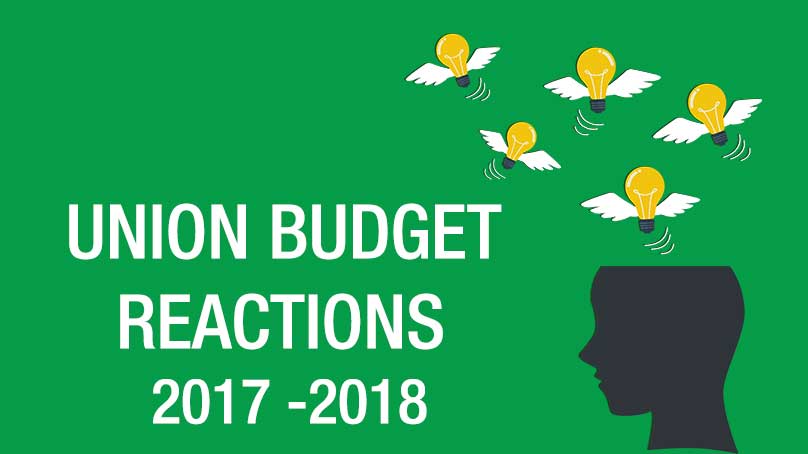 In the backdrop of demonetization and with polls due in five states there were lot of expectation from the 17-18 the Budget. Ultimately, it turned out to be in line with the government's vision and policies.
Our start ups leaders are decoding several announcements of the budget that impacting them directly and indirectly.
Says Piyush Jain, CEO and co-founder Impact Guru:
The Union Budget announcements made yesterday reflect a very positive change for the crowdfunding industry as a whole. Not only does the cap on political funding cut down the anonymity of large donations which has increasing importance since the black money crack down, it also echoes demonetizations' shift towards a digital economy. Both NGOs and political parties will need to act now towards investing in channels to support the dawn of the digital economy, proving an important time for online fundraising platforms such as crowdfunding."
Says Raghav Himatsingka, CEO  & Founder, Truckola:
"Union Budget 2017 proved to be a signature mark for transportation sector with the announcement to pace the construction of roads. It's a healthy move to support logistics industry which leads to swiftness and efficiency across sectors. Accounting to nearly 14% of India's GDP, the logistics industry plays a vital role in the nation's overall growth. With major emphasis on rural development this year, we feel this is an overall positive budget which will stimulate growth as well as drive social welfare and income equality."
Says Jatin Goel, Creator, The Vault:
"The push towards a truly digital economy resonates in the budget 2017 with a host of measures taken to curb the use of cash. In my opinion, the overall budget will help drive investments, promote angel investments and extend support to small and medium sized enterprises.  While I appreciate income tax reductions, the budget also needs to address the concerns of unemployed citizens of India. I'm further hopeful for acute measures from government, meant to solve the same".
Says Amit Ramani – CEO and Founder, AWFIS Space Solutions:
"The award of 'infrastructure' status to RE sector will boost the much needed growth in the sector and will balance the supply and demand.  The extension of the tax free period from 3 to 7 years will drive the entrepreneurial spirit of the youth to new heights with higher risk taking ability to drive exponential innovation.  Reduction of corporate tax will give a boost to early stage startups growing into MSME's for a continued tax incentive that will allow reinvestment to create larger platforms. Digital payments, remonetisation are the moves which will certainly take some time for complete implementation but we are hopeful."
Says Ameen Khwaja, Founder & CEO, LatestOne.com:
"Push for digital economy is a positive step towards Digital India. However, was expecting more benefits for startups and MSMEs. Few benefits are good like - the increase in the tax break segment, MAT can be carried forward to 15 years and 5% reduction in income tax for MSMEs. This budget right now has met only few demands of today's startup world. However, as mentioned by the finance minister, the government would further liberalize FDI policy. Maybe, the government will consider foreign direct investment (FDI) in inventory based e-commerce companies as well".
Says Sashank Rishyasringa, Co-founder and Managing Director, Capital Float:
"Incentivizing cashless transactions at fuel stations, hospitals and railways, rolling out 1 million POS terminals by March and proposing a payment regulatory body to the RBI will help create a robust architecture for digital transactions. Activating Aadhaar Pay and providing referral bonuses and cashback schemes to promote BHIM will drive digital money in Tier 2 and Tier 3 markets. Reducing income tax by 5% for MSMEs with under Rs 50 crore in turnover will provide a huge boost to the spirit of entrepreneurship in the country. Additionally, by abolishing FIPD, the Finance Minister has made FDI much simpler and faster. Increased investments in railways and road infrastructure will facilitate interstate trade while lowering the cost of operations for merchants."
Says Chirag Patel, CEO - KOOH Sports: 
"The budget for the first time addressed well being of the nation by changing health centres to well being centres and this is good sign for the health and fitness sector in general and sports in particular. Recognition is the first step to trigger change. Also a further boost on skilling is welcome if we have to create jobs to effect transformation in sports outcomes".
Says Tarun Wig, co-founder, Innefu Labs:
"High-speed broadband connectivity in more than 1,50,000 gram panchayats, under BharatNet and formation of DigiGaon for the promotion of telemedicine and education, are praiseworthy steps in the direction of Digital India, but not a single concrete step has been taken to ensure cyber security, which is a big concern".
Says Nita Kapoor, Head – India New Ventures, News Corp:
"The Union Budget 2017 has left the Indian startup community asking for more. Be it a 5 year tax holiday or the profit linked-deductions for start-ups are benefits which are virtually redundant. This is because there is a long gestation period for them to even break even, forget achieving profitability. Had there been fiscal incentives for private sector to support the setting up of more incubators through industry academic partnerships, that would have been a positive for startups in India."
Says Dhiraj Agarwal, Co-Founder, Campus Sutra:
"One development in this year's budget has been the reduction in profit linked-deductions for start-ups to 3 years out of 7 years. This will enable and encourage entrepreneurship. The plan to launch a scheme for the labour intensive leather and footwear sector is encouraging. PM Kaushal Kendras to 600 districts and 100 international skill centres is a welcome move in terms of employment for the youth in the country. This budget does see some positive developments on that front. The steps towards checking corruption and black money are also welcome".