Atma, man and tan takes one to Atmantan!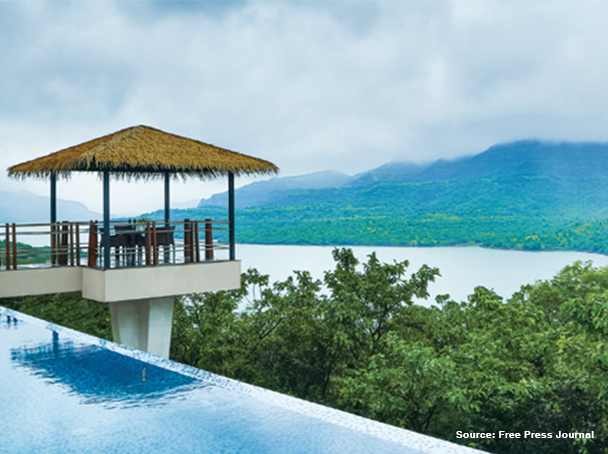 Atmantan helps you reconnect with yourself!
Atmantan Wellness Centre is an integrated wellness destination spa. It is located at Mulshi, in the lap of Sahyadri hills.
This centre claims to help people understand the relation between sound nutrition and the functioning of the body. The resort offers an expanse of 6525 square feet of fitness facilities. This comes with an expanse to world class spa and wellness therapies ranging from traditional ayurveda to pranic chakra cleansing.
Power pack couple, methodical entrepreneur and Ironman Tri-athlete, Nikhil Kapur and Sharmilee Agarwal Kapur, are the co-founders of Atmanatan. Read on as Nikhil shares their entrepreneurial endeavour at Atmantan with Baishali Mukherjee.
 The Founders
An MBA graduate (Bond University, Australia), Sharmilee comes from a family of Hospitality and Real Estate (Bramhacorp, Pune). She has business genes in her blood. She has gone on to become a firm believer and practitioner of Pranic Healing. This science has helped her redefine her way of living!
Her dream became a reality when Atmantan went live on April 7, 2016. Today as a mum of an eight- year old, she balances her life among her son, health and work.
She has been personally involved in the conceptual and creative planning, design and interiors of the resort. A family-oriented and gregarious person, Sharmilee is somebody who believes that one should try and live life without regrets and with the utmost optimism.
The Uniqueness
The resort offers an expanse of 6525 sq. ft. of fitness facilities in addition to world class spa and wellness therapies ranging from traditional Ayurveda, to Chi Nei Tsang and Pranic chakra cleansing. Atmantan has had the privilege of hosting personalities like Sri Devi, Karisma Kapoor, Malaika Arora Khan, Masaba Gupta, Neena Gupta, Randeep Hooda and Sanjeev Kapoor to name a few.
Atmantan went live on World Health Day, 7th April 2016, and is an extension of myself as a fitness enthusiast who has literally made healthy living his business. In fact, Atmantan Wellness Resort already managed to bag the Spafinder Global Wellness Travel Awards of 2016, for Best for WOW factor and Best for Fitness in its maiden year.
I have also used my love and passion for nature in a way that some stellar green initiatives were incorporated in to the making of Atmantan, because of which the resort is a proposed GOLD LEED Certified project. LEED is the green building certification program that recognizes best-in-class building strategies and practices.
The mission
Being at the helm of this project, we had a mission, that of creating Atmantan - the beginning of the solution that you seek for yourself, the ultimate formula for living this beautiful life as a wholesome and healthy human being.
We care deeply about the weakening lifestyles of not only ourselves, but that of our family, friends and people around us. We naturally decided to be part of the answer as we felt destined to provide the self-aware and receptive individual with one such unique way of achieving their desired healthy lifestyle and maintaining it for all times to come.
There is a sincere requirement and therein the opportunity to create Atmantan, the holy grail. It is a destination which helps individuals put them first, a place that takes us away from our hectic lives and helps us re-connect with ourselves. A place to make us fall in love with ourselves! After all, 'you' as your top priority is not entirely as selfish as it sounds; it is in fact the very need of the hour!
What's on offer?
We at Atmantan wish to transform you to the optimal way of life which enables you to improve on what you thought were your best. Besides relaxing activities like yoga and meditation, Atmantan's Corporate Wellness Programs also include conference facilities, team building workshops, interactive workshops on heart health and stress management and postural assessment among others. To incorporate fun and utmost rejuvenation, guests could also choose to partake in outdoor activities such as golf, dance, fitness classes and trekking.
What rejuvenates you the most? Do share your story.