Dibz: Click, Eat, Save!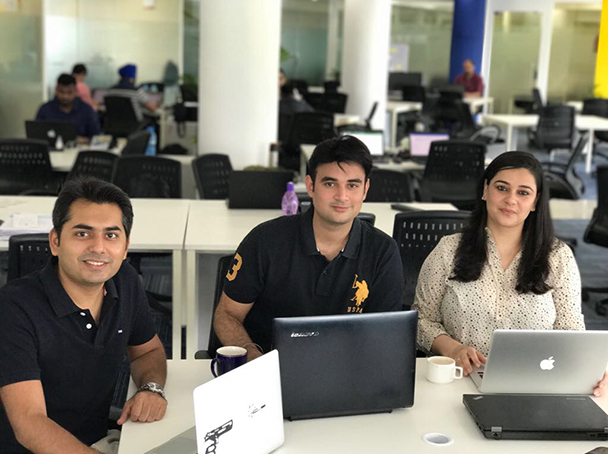 Switch to Dibz for your latest desire!
It seems that almost every day, you are invited to download a new app which will make your life easier. There are apps to find a restaurant and those to deliver from the same restaurants. But most of them seem to become extinct almost as soon as you have learned to use them. However, there appears to be one such app that seems to be winning at the survival of the fittest.
Sonal Pande's Dibz, an app-based real-time dynamic platform for excess inventory/capacity liquidation, offers deals and discounts for the most sought-after restaurants, and is growing by the day, inching towards expansion.
Our correspondent finds out from Sonal on how she differentiates Dibz from the crowd
The beginning
After graduating in Computer Science, I worked for an MNC for 10 years. But I always had the feeling that a cushy job and a fat pay packet was not my calling. I wanted to start something on my own. I decided to combine my expertise in technology and my love for food – and Dibz was born! Both my husband and I are foodies, and we were on the constant look-out for good offers and deals to dine out, but to our dismay the existing deal platforms were not substantial enough. The list either had non-performing restaurants or unknown restaurants.
After many such incidents, my husband and I realized that there is a dire need to come up with an innovative scheme of deals and discounts in the food and beverages segment. We find the current deals and discount models incompetent and lot of high-end brands don't believe in discount modules. This lacuna not only exists in the food and beverages segment but also in most successful businesses across every industry. All these businesses have excess capacity with no adequate platform to enable lucrative yet sensible liquidation offers for potential buyers.
After taking stock of the market, I decided to bridge the gap between known brands in the F&B industry and the buyers. Dibz was born on June 2016. My focus is on the F&B segment and to make sure that I maintain geographical perspective and also to establish our presence in Tier 2 and 3 Indian cities.
How the module works
Dibz App offers deals at the most coveted restaurants and hotels, which commonly do not advertise or offer discounts. We make it possible through investigation of each partner's business dynamics, thus enabling strategic proffering.  Our business module is well-etched out. Before partnering we do thorough investigation, and our handshake just doesn't mean giving out deals. It has to be a win-win situation, hence all my partners are selected and then curated.
The curating process requires them to understand the requirement of the partner before the deals are fixed. For example, Gurgaon is known for its eateries and every restaurant has its individual style of operation and each restaurant has a different target audience.  All these parameters are carefully considered before we close the deal on partnerships. Their inventory does not exceed more than 30 restaurants, and each one of these restaurants is sought-after by connoisseurs.
What makes Dibz stand out from the competition is our commitment and proficiency in understanding  the marketing requirements of our partners and the behaviour of our target audience. To get these deals we do intensive research and every deal crafted here has some takeaway for each one of us, establishing a complete symbiotic relationship amongst us, buyers and consumers.
Also, we are the first movers in e-commerce platform to offer deals on A' la Carte menu. Paying off surplus adds bonus points to your business module, hence Dibz also curates many events for various restaurants like karaoke and fun nights and this has added to the amount of goodwill we have earned from our partners.
Roadblocks along the way
The word deal has too many negative connotations attached to it, and to shift the mindset around it was a colossal task for us. The word 'deal' has been abused so badly that it has skewed the perception of the businesses offering it and the expectations of the customers availing it. Moreover, the rise and fall of a huge number of deal platforms every other day have led to a strong negative belief which plays against the core business module.
An entrepreneur usually starts from zero and here I had to start from minus, but we had faith in our module and with that conviction it was worthwhile to convince and convert all the naysayers into becoming our partners.
To reach our goals we had to be different, and hence we have restricted the number of partners that we take on at any particular time. We also have set parameters for a chosen brand to ensure quality service. We capitalized on our time in understanding each partners' challenges and building their confidence. This allows us to reassure our partners of smarter businesss and ensure that they remain loyal to Dibz.
Up ahead
We have managed to establish presence in cities like Allahabad, Varanasi, Lucknow, Delhi, and Dehradun, and next in the offing are Kanpur and Agra. Our army comprises of Udit Verma, a techie turned marketer, and one fresh graduate - Raunak Pandey, BD Ninja – whose weird ideas just seem to work like magic.
We are working hard on our goal to penetrate tier-2 and tier-3 cities.  There are pros and cons in working with these cities. The sunny side is that these cities have good buying power and the flip side is that the restaurateurs are not technologically aware.  So we work at convincing them about the digital medium, and once convinced they are always open to our ideas. As a team it's a daunting task, but at the same time we feel very empowering. The future map would include affiliating advertising and scaling up business either by adding new verticals or expanding topographically.
Dibz raised an angel round in last November and the second round of funding is likely to close next week.
Current investors:
Rahul Maroli (SVP – OLA Corporate & Strategic Supply)
Vikas Bagaria (MD – SRV Damage Prevention Pvt Ltd)
Amit Parsuramka (CEO at Vascon Engineers Ltd.)
Partha Sarathi Guha Patra (Founder at ASADEL Technologies)
 Tips for budding startpreneurs
Every start-up should have basic fundamentals in place. I feel the budding entrepreneurs should remain frugal in their investments and agile enough to accept the changes.  The whole mentality of accepting each and every one as a customer should change, one can actually select their consumers. Different communication patterns should be tailor-made for different audiences, stakeholders, and mediums. Our success also lies in not subsidizing blindly to attract customers and bootstrapping as long as we can.
With digitisation wave swinging in the country, do you think these kinds of apps have a bright future in India? Please share with us.