'Lokate' signs deals with wireless, insurance players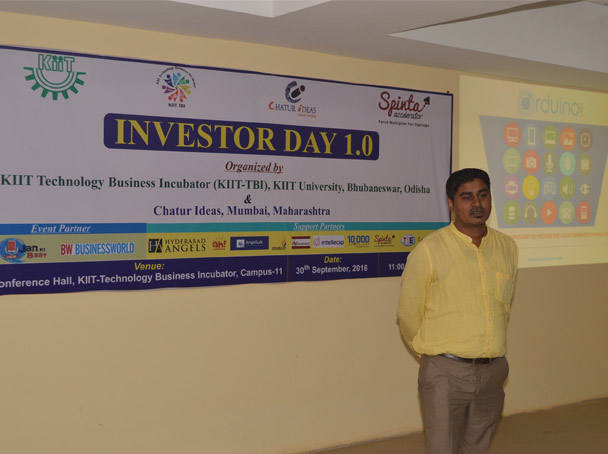 Gizmo changing face of the vehicle-maintenance industry…
Chandra Sekhar Rout and Nishikant Pradhan founded Lokate OBDII Tracker. It's a device which could help people keep a tab of maintenance of vehicles by giving both diagnostics and prognostics value. Rout is a self-motivated and creative individual with 12 years of software and hardware experience in India and Singapore. He feels that the best way to serve customers is to lose yourself in their services.
Rout is a BE (Mech) KIIT University, Bhubaneswar-based. He has been working with Nethawk, Freescale, Onmobile (Dilithium) before embarking on his entrepreneurial journey.
The young entrepreneur shares his passion for addressing problems with Baishali Mukherjee. Read On!
It was a fateful day and I was travelling with family. Midway my car broke down! You can well imagine the state one finds oneself in such emergency situations.  A lot of harassment followed after which I finally found my way to my destination.
That kept me thinking of a devise that provides alerts of faults and helps prevent catastrophes. Lokate OBD was the outcome of my ponderings.
Lokate brings help fast and easy. With mechanic and diagnosis, Lokate comes to rescue as a true friend. Lokate app enables sending breakdown data to service station through live feed and seeking help. The service station can also be prepared to resolve the problem beforehand. For service stations its means reducing site visit by pre-empting breakdowns and faults. It's a great solution for skill development and insurance companies to rate drivers and offer premium.
Problem solved with business idea
Lokate OBDII Tracker tracks vehicle diagnostics like low- battery, coolant temperature, fuel usage and alerts for check-up. The innovation helps generate score of driver behaviour data which could lower premium for operators. Lokate supports workshop tie-ups for alerts regarding critical incidents, maintenance schedules and visualize vehicle utilization.
Operations
We operate from three offices. R&D is operated from KIIT-TBI while sales and marketing and business developments from NASSCOM warehouse Kolkata. We have catered to more than 50 clients which includes six government departments and 35 corporate clients. More than 1000 units of our product have been sold. We have a dedicated 15-member team and one sales manager in each state.
Uniqueness
The device helps one easily know engine oil pressure etc. This could turn an unskilled mechanic repair and fix the vehicle in seven days. Fast and simple installation eliminates installation costs and allows on-the-spot presentation of the device. Lokate OBD can also act as wifi hotspot thereby providing in-car infotainment through curated content. Our OBD devices are manufactured in-house and at workstations of partner companies with highly scalable infrastructure. Our dedicated service will eventually play an essential role in success of our enterprise.
Funding
We have received Rs 56 lakh as funds till date. This includes Rs 46 lakh from KIIT-TBI and rest from Soubhagya Das, a serial pvt investor. We also have funds sanctioned which is under process. Rs 15 lakh is granted from Govt. of Odisha while Rs 6.25 lakh from MSME department, Govt. of India. We will utilise the funds for R&D and expansion and marketing. Our efforts in taking the product to market and previous experience in sector helped us bag the funds.
Target Market  
The Global Connected Car Market is expected to garner $141 billion by 2020. Rising consumer demand, need for constant connectivity and increased dependency on technology boosts the market. Already various connectivity solutions have been developed by the car manufacturers and service providers. Hence, we have a burgeoning market to cater to.
Vision
Lokate aims to be a leading player in vehicle telematics with a strong focus on R&D. We are presently focusing on newer technology adaption like Machine Intelligence and Augmented reality. 24/7 support and fulfilment are managed by dealers that have partnered with us. Lokate believes service will play an essential role in success of enterprise. Lokate is mainly in the data analytic software business. We have a SAS-based model for B2B services. We have also signed agreements with large wireless network carriers, insurance companies, repair chains, etc.
Have you ever engaged with a vehicle-maintenance player? Please share your experience with us.