A love affair between commitment and enterprise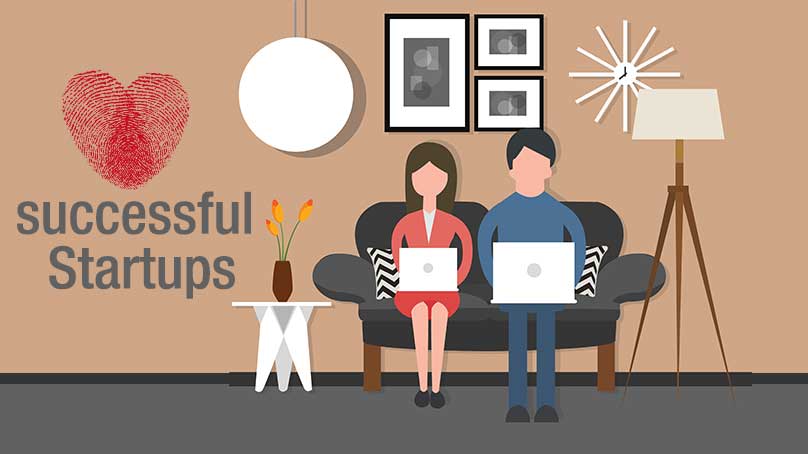 Valentine's Day is when matters of the heart get celebrated and the unison of soulmates scripts a story of its own. However, there are entrepreneurs who are Valentines (be it a married couple, close friends, or brother sister)  and have started a togetherness journey of altogether another kind—by jointly founding a startup.
Start Guru catches up with Amitabh Sinha and Meenal Sinha, Co-founders of Meetingsandoffices.com, Atul and Kanika Chhabra, Co-Founders & Directors of V Spark Communications Pvt. Ltd., and Arnav Kishore and Aayushi Kishore, the brother-sister duo- Founders of Boltt Sports Technologies.
Here's what each duo told us-
Your success mantra as a couple in business?
Amitabh and Meenal Sinha- We live together and work together, so give each other enough space to breathe, be critically appreciative, and maintain a balance. Entrepreneurship is tough, let's not make it tougher.
Atul and Kanika Chhabra- As a couple, we believe that we should focus on our specific responsibilities which is divided and help each other whenever required instead of peeping into each other's work on a daily basis. This gives us the freedom to work in our own vision. It also helps in avoiding conflicts between us in small matters. The space and freedom of decision making are very important for an individual.
Arnav and Aayushi Kishore- We believe that Boltt, is planning to usher in a new era of 'The Connected Life' with AI enabled smart ecosystem. As a team, we ideate together and discover options for increasing the visibility of the brand across the globe and bring product modifications which are best suited to the consumers. Working on the brand imagery, we have strived to establish the fact that Boltt has the potential to create disruption in the wearable industry.
How do you share the responsibilities?
Amitabh and Meenal Sinha- The domain expertise and the concept belong to Meenal, she is the Chief Executive Officer, the Chief Business Officer & the Chief Product Officer of the company. Amitabh's role leverages past networking, associations and experience bringing lateral strategic inputs, creating connects and alliances and acting as a sounding board.
Atul and Kanika Chhabra- While I look after the Media Relations, HR & Finance, Atul manages Brand Relations, Business acquisition & Marketing. We both work in synergies while not stepping into each other's territory. This simple ideology is one of the key 'ingredients' behind our venture's success. We are going to continue this in future as well.
Arnav and Aayushi Kishore- Arnav has always been a sports enthusiast and loves exploring the world of 'IOT,' 'Connected Technology', and 'Big Data'. Combining his passion for sports, technology, and entrepreneurship, he is now exploring the world of wearable technology and heading the Boltt Sports Technologies Pvt Ltd, an innovative wearable tech company, taking care of product modifications. Aayushi dons the CMO role at Boltt. Her strengths lie in consumer and product segment, market intelligence, product and market development, communications, sales force effectiveness and strategic planning.
The best part of working together?
Amitabh and Meenal Sinha- We've been together for a little under 25 years now, as best friends, husband and wife, and now business owners, the relationship has morphed and evolved. There is a certain understanding between us, a certain instinct towards each other, and of course a commitment to common dreams and goals. We're just really good together.
Atul and Kanika Chhabra- Working with someone who has the knowledge and has an urge to do their best just like you is always great. One of the best parts of our working together will be that we are always there to calm down each other. There is always one shoulder whom you can trust blindly and someone to remind you about lunch time so that one doesn't skip meals under tremendous pressure of work and deadlines. It feels better to work with someone who will help you improve on a daily basis.
Arnav and Aayushi Kishore- The fact that we have shared interests and can work in tandem, making best use of our strengths and leveraging them for our respective departments always adds value to the company.The team's principal promoters are veterans in the sports industry and have 25 years of experience in creating international brands like Nike and Lotto in India.
Your dream for the future?
Amitabh and Meenal Sinha- Taking meetingsandoffices.com to a point where we create a few thousand jobs, a few million brilliant experiences and fire a few imaginations—let people believe that we can make magic if we work on it hard enough.
Atul and Kanika Chhabra- We started this venture in 2010 with just 4 people in our team and today we have a team of 25 plus with an aim to grow together. We have worked on more than 200 brands in this journey. Our dream for the future is to expand our business and we would love to join hand with more brands and also to have even a bigger team with the best professionals working with us. We are also planning on to add certain more services that we will provide to our clients.
Arnav and Aayushi Kishore- Our dream is to integrate healthy living as a lifestyle or rather a culture across the globe. We are taking baby steps to reach there and will continue innovating and exploring the fitness wearable space. We are quite ascertained that the AI-enabled Boltt products will motivate and drive more people into embracing healthy living.