Nitin Sharma helps you foresee your roomie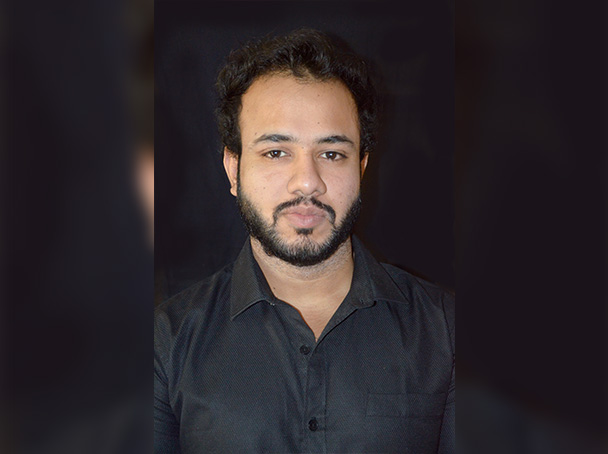 He belongs to a place where you better get a job and get married at the age of 25. The common questions he faces everyday are - "What exactly does the word entrepreneur mean? Do they really earn money?? Who will give them money??" And the suggestions he is provided with are – "Do one thing- just shut the "whatever it is" and get a Job. Start preparing for government jobs. Soon there will be some vacancies."
But nonchalant to these persistent neighbors and relations, Nitin Sharma of Sawai Madhopur, Rajasthan (widely known for Ranthambhore National Park), is fully passionate about taking his startup – RentRoomi, to newer heights. His venture has already received recognition being selected as one of the top 50 best startups for PitchCity 2015, organised by Headstart Network Foundation and as one of the startups to participate at Startup Turkey Challenge 2017. Operational from both Sawaimadhopur and Jaipur, RentRoomi provides services to Bengaluru, Mumbai, Delhi, Pune, Noida, Hyderabad and Gurgaon.
Sharma, an engineer turned entrepreneur, talks of his dreams, passions, challenges and inspiration, in an elaborate tete-e-tete with Baishali Mukherjee.
Old story in new package
The story of RentRoomi dates back to 1980s. A young handsome man, had a job in Rajasthan judiciary, married to a beautiful lady, blessed with a son, was transferred to a small town of Hindaun city, Rajasthan. A meagre salary of Rs 740 and so many responsibilities! Life was definitely tough. And one day an idea struck him, "what if I share a room with someone?? This will bring down the burden and I could spend money on more essential things." The small family shared the room, let me tell you it was NOT a luxurious 1BHK we see today... it was a small one room, and it was shared with another small family of three. The idea of cohabitation saved both the families from the expenses and sharing bills was a blessing. The man in the story is my father. The idea of cohabitation is not a new one. It is time to reintroduce it, especially in today's high salary yet never-ending high expenditure.
Ideating from ordeal
Later while being an engineering student, residing in the college hostel, I recognized the need for the right roommate. Witnessing the strenuous life of an engineering college, I have seen it all that to be seen in a roommate. From the one that bullies, to the one who leaves his dirty socks under your bed, from a kleptomaniac to a self-proclaimed "bhakt", in college and then work life, I have encountered numerous avatars of roommates. Though some became friends for life, others were disasters. After learning from my ordeal, I decided to build a platform catering to customers, wanting to share a flat or a room, and looking for the right roomi.
Leveraging technology to set the ball rolling
Every idea needs to be converted into prototype to make it useful, and that's how we started investment, mainly on website development, server and bandwidth allocation. RentRoomi is currently bootstrapped by the founder. We are working towards growing the network further and looking for funding.
We promoted RentRoomi through social media and blogging (50k+ users). Bloggers played a major role as our publicists. Through our blogs we re-introduced the concept of a roommate, the value of this unknown person who turns into a very important someone in our lives. Along with blogs social media platforms helped us gain our target audience. And with the growing traction, mouth-to-mouth publicity became the key component in RentRoomi's promotion. All the efforts of taking RentRoomi from nowhere to where it is today is entirely constant efforts of the team including the trust and response given by the youth of India.
Targeting youth
The journey of engaging audience and turning them into clients who would find a roommate or find the room they were looking for, was not an easy one.  Since we are idea based startup, we targeted India's megacities and received great response. Today we have 9000+ user listings along with their successfully convertible leads; the website's target audience constitutes more than 40-50 percent of the population - the heavily tech-dependent youth, who believe in optimal usage of resources, students, and job seekers who worry about finding the right roommate.
The core website will always remain free to create listing or looking for occupancy in an already occupied apartment. The user could post their ads and give answers in detail regarding the room, amenities, and price. The RentRoomi model aids in settling at a new location, with the right room partner, wherein one could share the living costs and utility bills. RentRoomi is a peer-to-peer platform wherein people looking for suitable roommates/flat mates could post their listing and the one in need could choose from the numerous options enlisted as per their preference.
Providing a holistic solution to finding the perfect home
Currently RentRoomi running on a free platform, however we will manage to add features to monetize our services. The growth of the online rental business in India has gone through many ups and down since its inception. Market leaders like Sulekha, 99 acres, Magic Bricks and Housing.com's unique platform, simplified the search of the perfect home. But the success they enjoyed for years took a hit in 2015, with companies restructuring, mass firing and even some of them shutting the doors to curtail losses.
This scenario evoked the demand of a technology that goes beyond listing properties and provides a holistic solution to finding the perfect home for oneself, widely known as shared accommodation. The initial member team consisted of friends and colleague who believed in   our vision and helped in setting the initial organization culture. Soon we are going to enroll more tech freaks to work with us, currently we are a team of 10 consisting full time and part time.
Look before you leap
RentRoomi is different from other classified websites because it offers the user to choose the right kind of roommate based on preferences, demographic and geographic analysis. Though we acknowledge the competition in the online renting space from established market leaders, we at RentRoomi are optimistic of our growth. Metro cities are attracting single working and students in the prospect of a better life and this has created a huge demand for rentals. Though existing players are offering rental properties, they are lacking a personal touch. This gap is bridged by RentRoomi, which helps you to foresee and decide the person you will be sharing your room with. The model right now aims to generate revenue through added services like Google ad-sense. In future additional value-added services will be segmented.
Safety first
Safety of users is a primary concern. Whenever we are suspicious of any listing in the form of broken language, improper description, incorrect contact details, inappropriate photographs, it is immediately blocked. We also cross verify contact details and email id of the users. We also have a questionnaire linked to the website called "ask your roommate", to know about your future roomie.
Sharma is zealous about enjoying working each day and ignoring the "not enough" litany. "Set attainable monthly, weekly, and daily goals for yourself and reward yourself - you so deserve it!" – He advocates. Please share your views on this.