Soul Crafts Her Own Society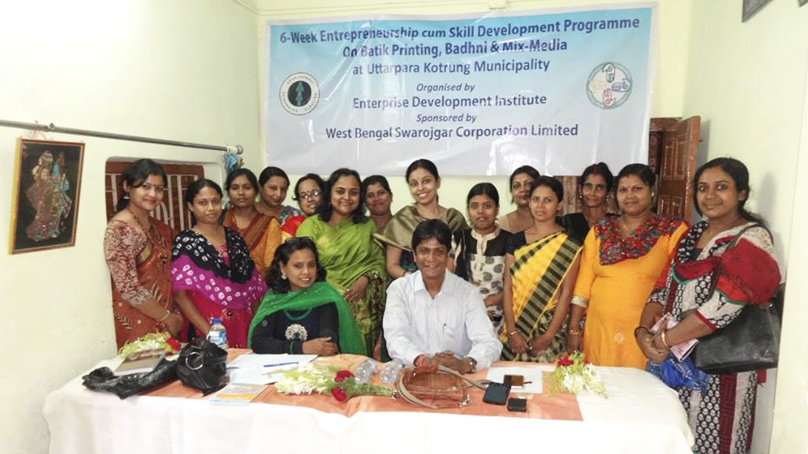 I'm A Woman
Mallika Bhattacharya is the founder, director of Raka Crafts Welfare Society (RCWS), an NGO associated with handicrafts, since 2007.  RCWS has 400 underprivileged women in its fold who develop handicraft products and make livelihood out of them. Also a faculty at Enterprise Development Institute, Kolkata, providing training in handicraft, Mallika's life story is generic yet unique. Let's hear it from her.
I am no story teller so I would let the story tell itself ...
This is the first time I am narrating my life story before the world. I would have loved to make it sound grand, but when your account is that of survival and self-dignity, you'd rather be honest. Survival, I have learnt, is not always for food and shelter. More often than not it is for dignity. My existential struggle and subsequent journey towards 'empowerment' was for dignity, as an individual and as a woman.
Life was simple and heedless until I got married and came to Hindmotor in 2004, a small town in Hooghly district of West Bengal. Losing my mother in law immediately after my marriage left me utterly alone as the men of the house, my husband and father-in-law, were mostly out for work or business. Belonging to a lower middle class family, I had to look after the entire household and its daily chores, all alone. But that too ended at some point and time loomed large in front of me like a vast canvas and I had nothing to paint it with. Discomfiture made me helpless...
Reticent and serious by nature, my husband has always been a little aloof and we were like two islands with limited prospect for connection. Life took its course and I became a mother in 2005. Suddenly time seemed like a winged chariot and the new chapter of my life kept me rapt. It was only when my daughter was a year old I started thinking of my identity. I questioned it and the answer dejected me down to the core.
Early marriage had ended my scope of higher education. A college drop- out with no special skills; I stood no chance in the job market, whereas my financial portfolio was direly against any hope for entrepreneurship. But there was this tremendous zeal to rise above the ignominy and the plight, and then there was the mother! What followed was a collective search through whatever media was at hand to find out avenues of skill development in minimal expenditure. A couple of month's rigorous probe and results started yielding.
2006 marked a new chapter in my life; it sowed the seeds which have grown into a thriving tree today. The road to empowerment started with my enrolment for a training programme in Batik painting and needle work at Vidyasagar Bani Bhawan, Government institute in Kolkata. In the next two years, I underwent a series of skill development programmes in weaving, craft making, embroidery, travel and tourism and food processing. You could always call me a training-a-holic!!
Once skilled in product making, I was once again bitten by the entrepreneurship bug and registered my NGO Raka Crafts Welfare Society in 2007 with a paltry 5000 rupees. It was primarily a school where I trained the underprivileged girls from the locality in the skills I had acquired so far. From five in my first batch to 500 in the present one, my progress report makes me happy like a child who gets A+. But then I quickly reminded myself that vanity is sin!
Life has changed for me over the years. A decent monthly income, the school buzzing with activities, the production centre receiving orders often beyond its yielding capacity, the children (I have a six-year old son also) happy and healthy and the family finally accepting my new identity – I could not have asked for more. But then more is a merry word- isn't it?
As told to Baishali Mukherjee