Top six secrets of Wow! Momo at a peek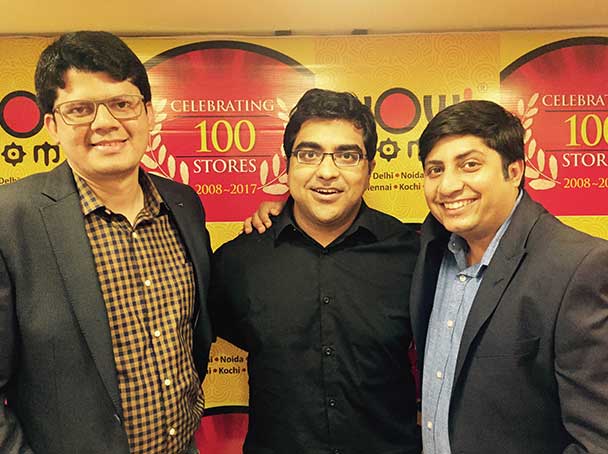 This Momo player seems to have it all-from hitting the largest number of a 100 outlets to a strong team to a turnover of Rs.5 crore per month. Here's the secret to their success:
From one outlet in 2008 to becoming the country's largest chain of momos with more than 100 outlets across Kolkata, Delhi NCR, Bangalore, Pune, Chennai and Kochi in 2016- Wow! Momo, a young and vibrant brand started by two young Entrepreneurs Sagar Jagdish Daryani and Binod Kumar Homagai from Kolkata at the age of 21, is a unique success story. Named as India's first major chain of branded momos and one of the five fastest growing chains in India, Wow! Momo started with an initial investment of Rs 30,000 with one Kiosk in Kolkata. In eight years, they achieved a current turnover of over Rs 5 crore per month. Their successful business model is a case study for several multinational organisations and Business Schools.
Here is what Sagar Daryani - co founder & CEO, Binod Homagai- co founder & COO and Shah Miftaur Rahman- co founder & CFO, have to say about their secret to success:
1.We have been able to build a strong team. It's a team which makes an entrepreneur and not vice versa. We believe in sharing wealth for making wealth, and by wealth we just do not mean money, its position, respect and responsibilities as well. Our national business manager joined us when he was a team member in another QSR brand eight years ago, now he heads over 600 staff. Our national chef joined us as a part time cook when we started, now he travels nationally every week. We always market ourselves to the outside world but always forget to market ourselves to our employees; one happy employee gets you five permanent and loyal employees. By God's grace, we have been able to build a kick ass team of over 900 staff, and work together to support all 900 families," - Sagar Daryani

2. Second important thing according to Binod Homagai is to get the costs and unit economics right. "One has to be profitable at a transactional level, if you are in business, you have to make money to make it grow else it's just digging a grave. We have been profitable from Day 1; we bootstrapped and grew to 40 stores with our own money. Business has to be green, else it's no business, and one rupee saved is five rupees earned," he adds.
3. Focus on customer needs and being relevant at all times are very imperative in business. Customers are treated with utmost respect and we follow the rule - "Customer is always correct, and have to be delighted", we always go out of our way to ensure they are delighted at all times – shares Miftaur Rahman.
4. At Wow! Momo, food is a lot of fun as food has been converted into food entertainment. "This was done by innovating ourselves over the years and keeping the customers glued to our brand. We have innovated with products like MoBurg (Burger Momo), Baked Momo Aug'ratine, Chocolate Momo, Momo Sizzlers etc. to name a few. We also play with occasions, for example, we are currently celebrating the Valentines week by introducing rose shaped chocolate momo, so our customers celebrate their love week at their WoW Momo store in a WoW way," – the trio agrees.
5. 'Experimenting with time and taking risks' is a must. "The biggest risk in today's business is not taking risks. One has to continue experimenting with time and taking calculated risks for a better future. Every new city we have entered has been a risk, every new store we open is a risk we take, we have to continue to evolve else it's very difficult to sustain in the race," warns Sagar.
6. Lastly and most importantly, it's all about sheer hard work, the harder you work, the luckier you get. There is no secret to success but working with full devotion, dedication and perseverance.
What are your top six secrets for your business? Please share your story.