G for Ganpati, G for Green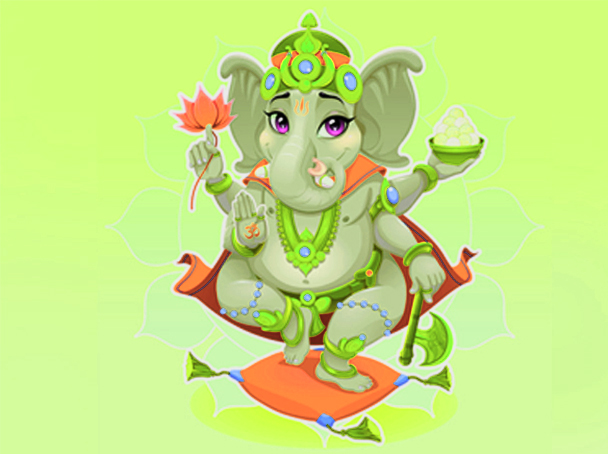 Let's welcome a greener Ganpati!
It's barely a couple of days before Bappa comes home to our hearts once again, but is it possible that this year we may celebrate it differently? A bit greener, perhaps? Gairika Mitra finds out:
If there is a festival before Diwali that could be considered universally Indian, it would be Ganesh Chaturthi. The excitement could be felt even a week before the actual festivities start. "Ganpati Bappa Morya," will be a refrain we hear from this Friday for a good couple of weeks ahead. Children and adults alike enjoy their favourite God's celebrations, and it is not hard to understand why. Modaks, Mithai, Jalebis – the air we breathe is about to be filled with the aroma of these sweet treats and the loudspeakers will soon be paying tributes to Bappa.
Bappas come in all shapes and sizes. Plump, glittery, mud, 12 feet tall – your wish is the market's command! Then there's his attire, the songs to welcome him, the gifts he will give us – so many factors to consider.
Bengaluru-based start-up www.growsharesustain.com founder Mayank Agarwal & team would like to add a green twist to our celebrations. This new Ecommerce portal is motivating human behaviour to change in a sustainable way" as a key message. Are you an aware citizen who aims to do things which are eco-friendly in nature?
Read on to find out what he has to say:
The Idea
I have been an entrepreneur for the past ten years. I founded an advertising agency which caters to reputed brands, and now I'd like to give back to Mother Earth. My current entrepreneurial mission is to increase awareness and consciousness around the concept of sustainability.
I am quite ambitious. I am confident that my venture will become the 'Flipkart of ecological and sustainable products.' I started a new venture last month, and judging from the feedback I do seem to have already hit my stride.
Development of the Concept
My interest in sustainability is not just personal, it stems from my interest in our country. I would like to contribute as much as I could to transform our country into a sustainable nation. My venture aims to build a much more aware, brighter, and greener planet by providing alternative, natural & reusable products/options for the citizens of this earth.

This is in contrast to the massive dumping of products containing rather alarming levels of chemicals and too many products. I would like to illustrate this point with an example. Take an everyday, simple product such as the toothbrush. The brushes that we use are not recyclable, and to counter this we have designed bamboo brushes as a replacement.
www.growsharesustain.com aims to shun environmental pollution totally. If you look at the logo of our website you would see that it's the earth with infinity glasses. Our current offerings also include eco-friendly sanitary napkins, laundry products, and body products.
The Ingenuity
Since it is Ganpati season, we thought of kickstarting our venture with Bappa. We manufacture Ganpatis in various sizes ranging from six inches to five and a half feet.
Memories of Ganesha drinking milk from his devotees is still afresh. The idols designed by us can be taken home and worshipped. The difference lies in the immersion procedure. The idols are hollow from inside and are planted with seeds which produce vegetables.
Instead of taking Bappa to the water bodies, our process requires the idol to be kept on a tray. One needs to water him for seven to ten days until a sapling comes out.
The sapling appears within the period of a week and the vegetables come out within 30-40 days.
The Funds
www.growsharesustain.com is currently bootstrapped, but we are optimistic and looking forward to receiving funding. Within a span of 15 days, we have received 300 orders on the website + big basket + ola and are looking forward to a further increase in numbers very soon.
The Retailers' Perspective
Retailer Prathamesh Mhatre who sells Ganpati idols at Ali Baug in Mumbai says that although eco-friendly Ganpatis appear to be the new obsession, most people continue to prefer POP idols.
"A two feet POP Ganapati costs around Rs 2,000 while an eco-friendly Ganapati would cost around Rs 5,000-6,000. Moreover, manufacturing an eco-friendly idol is more time consuming than a POP one." Other retailers we spoke to in Mumbai also share this perspective.  
We are interested in what you, our readers, think? Are you going green this year, or do you have other opinions on this perspective? We would love to hear your feedback.