Meet Ather Energy: The 'Tesla' of India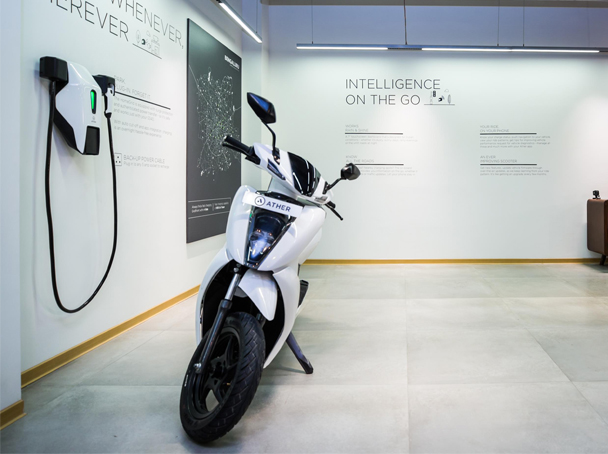 This electric vehicle startup launches e-scooters Ather 450 and Ather 340 and has already received pre-orders. Scroll down!
To promote a greener India, Bangalore-based startup Ather Energy launched their disruptive, intelligent, electric scooters Ather 450 and Ather 340. Ather Energy is the first Indian major venture to follow US car producer Tesla in designing, and building its own bike from scratch.
Product Specifications
Ather 340 is priced at Rs 1,09,750. For early adopters, it comes with a standard installation, charging cable, and a year's subscription of Ather One, the company's service plan.
Ather 450 vehicle is priced at Rs 1,24,750, and comes with a home charging point, with standard installation, and a year's subscription of Ather One.
The Ather scooters are connected to a mobile app, which helps the driver with navigation, parking spots, and also finding charging points. Ather One also helps vehicle owners with service details and provides unlimited rides, where one doesn't have to pay for charging the vehicle. If you charge the scooter at home, the cost will be reimbursed.
Financial Backing
Ather Energy has raised $43 million in funding so far from some of India's best-known investors, including the country's No.1 two-wheeler maker Hero MotoCorp, Walmart partner Flipkart's founders and hedge fund Tiger Global Management.

Quote from Tarun Mehta, co-founder & CEO - "We started building electric scooters five years ago at IIT Madras and we are excited to launch not only the Ather 340, but also our higher performance flagship variant, the Ather 450. In the last five years we have not only built the scooter, but an ecosystem for an electric vehicle future.
Be it the suppliers and partners who were entering the EV market, the charging infrastructure that had to be set up for consumers and the engineering talent itself to build the products. Between the Ather 450 & Ather 340 launching and AtherGrid being up and running in Bengaluru, we are really looking forward to expanding into Chennai & Pune in the coming months. These are exciting times to be a part of the industry."
Ather Energy has filed 43 patent applications along with 11 international patent applications and 122 design registrations of their products that have been designed and made in India. The company has also installed a comprehensive public charging network, AtherGrid in Bengaluru.
They can produce about 600 scooters a week. The company plans to produce a few thousands of them before stepping up production in 2019.
While Ather Energy strives to be the Indian 'Tesla', there are other prominent players in the market like Twenty Two Motors, Okinawa Autotech, and Okinawa Ridge. Twenty Two motors raised a $1.6 million pre-Series A funding. They had launched their electric scooter 'Flow' a few days back.
Do you know of a similar startup that specialises in electric vehicles? We would be happy to feature them.